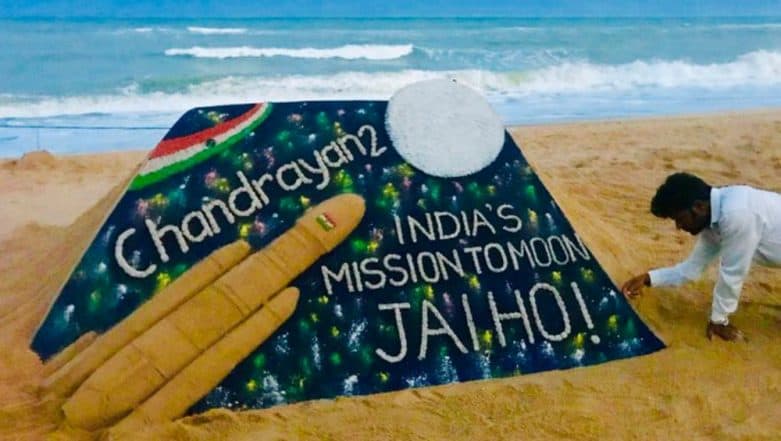 Congratulatory messages poured in for the ISRO team as Chandrayaan-2, India's second lunar exploration mission, entered the Moon's orbit on Tuesday. And lauding the space agency's achievement, popular sand artist Sudarsan Pattnaik made a sand art at Puri beach in Odisha. Showcasing the spacecraft making its way to the Moon, the sand artist created a beautiful sand work with the words 'India's Mission to Moon, Jai Ho' written on it.
ISRO Chief K Sivan said that the Lunar Orbit Insertion (LOI) manoeuvre was completed at 9:02 am as planned. The spacecraft will touch down on the Moon's surface on September 7. Four more orbit manoeuvres will enable the spacecraft to enter into its final orbit which passes over the lunar poles at a distance of about 100 kms from the Moon's surface. Pattnaik tweeted an image of the sand art with the caption, "Congratulations to @isro Team #Chandrayan2 #JaiHo." Chandrayaan 2 Explained! When Will ISRO's GSLV-Mk III Reach Moon And What Will Happen After That?
Check Out the Sand Art Below:
Congratulations to @isro Team #Chandrayan2 . #JaiHo pic.twitter.com/5feT85p3Bo

— Sudarsan Pattnaik (@sudarsansand) August 20, 2019
On September 2, the Vikram lander will separate from the orbiter. After being launched on July 22, Chandrayaan-2 spacecraft has been in the orbit of the Earth. So far, the spacecraft has raised its orbit five times from July 23 to August 6.
Watch The Video Below:
The ISRO said that Chandrayaan 2 will shed light on an unexplored region of the Moon, the South Pole. With this mission, India will become the fourth country after Russia, the US and China to make a soft landing on the Moon. The mission life of Orbiter will be one year while that of the lander (Vikram) and rover (Pragyan) will be one Lunar day which is equal to fourteen earth days.