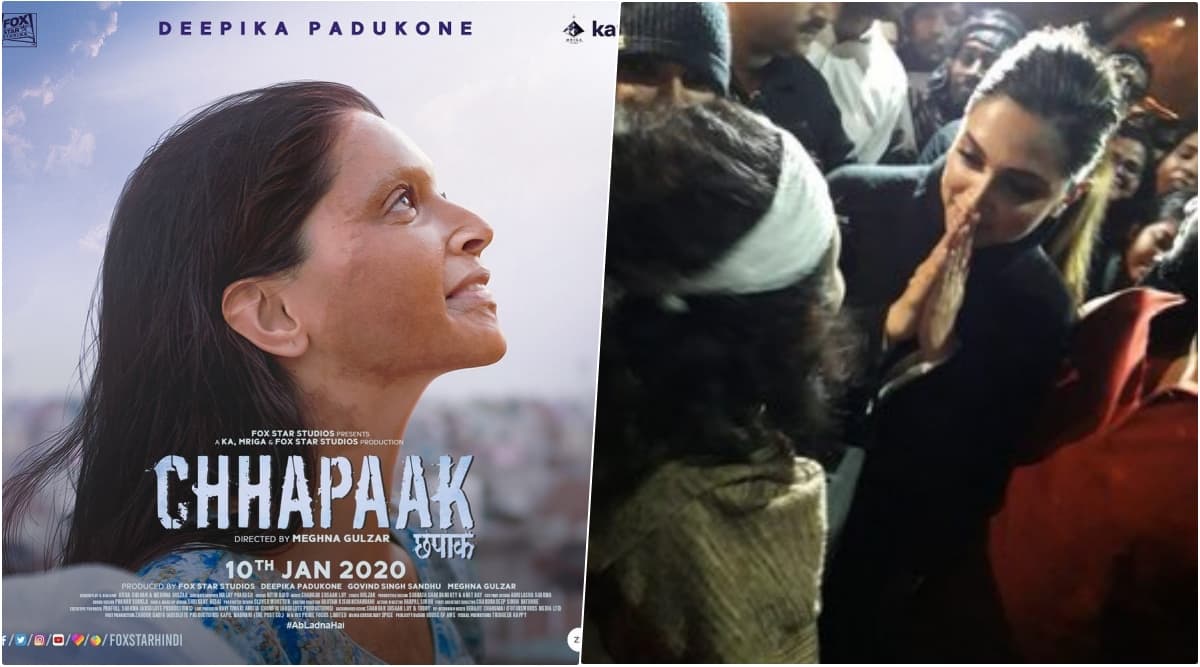 There's still a day to go for the release of Deepika Padukone-starre Chhapaak but the movie is already facing crazy online piracy threat. Yes, TamilRockers, Telegram and Torrents is busy attacking Chhapaak! Now, latest movies at the box office becoming a target of torrents are not unheard of, however, Chhapaak is facing intense ire after its leading lady, also the producer of the movie paid a visit to Jawaharlal Nehru University (JNU) and support students who had been brutally attacked recently by masked assailants. Angry Twitterati, mostly R'wingers, are claiming Chhapaak full movie in HD leaked and is available for free download and watch online. It is said that Chhapaak movie download link are shared on Telegram, Google Drive, WhatsApp and via other platforms.
Chhapaak is one of the highly-awaited films of the year and it is slated for January 10, 2020 release. However, shockingly, there are murmurs of  Chhapaak full movie in HD getting leaked online for free download and watch online as well. The film is facing a potential online piracy threat after its lead actress and producer Deepika Padukone visited JNU and stunned the country by standing in solidarity with the JNU students and teachers. They had met with brutal violence at the hands of masked assailants on January 5. Unsurprisingly, this move by Deepika has divided netizens with n number of hashtags trending for and against the top actress. One hashtag that is slowly catching momentum is #ChappakOnTorrent with an aim to dent Deepika Padukone's forthcoming film's fate at the box office. Deepika Padukone's JNU Visit: Twitter User Discovers How Same Movie Ticket Was Booked And Cancelled by Multiple Netizens Trending #BoycottChhapaak; See Tweets And Images.
Be it micro-blogging or search engine platforms, a wide section of the internet is trending Chhapaak and Deepika Padukone with spiteful messages. If hashtags like #BoycottChhapaak, #BoycottDeepika, #BoycottDeepikaEndorsedProducts, #BoycottDeepikaPadukoneMovies were not enough, netizens are googling keywords like Chhapaak movie download, Chhapaak full movie download, Chhapaak movie TamilRockers HD movie download, Chhapaak full movie watch online free, and more. While there is nothing unusual about the searches for a film's pirated versions rising ahead of the release, it looks menacing when a large section of Twitterati seem hellbent on watching the movie illegally.
The Indian film industry has long suffered due to piracy. Week after week, movies are met with the same fate with illegal torrent sites led by nefarious website, TamilRockers leaking films online within 24 hours of the release. In worst cases, movies make their way on the internet almost at the same time the film hits the theatre. And it seems like Deepika Padukone's Chhapaak will face the worst (might even get leaked before the film's release) with the way angry netizens are trending the #ChappakOnTorrent hashtag.
Sample of Tweets With #ChappakOnTorrent
#Tweet1
No boycott no abuse#ChappakOnTorrent lets trend this !!

— Mr Trippy🌵 (@psychedelicbuoy) January 7, 2020
#Tweet2
#Chappak Deepika is propagandist and she is with tukhda tukhda gang. These actor are mostly illiterate they don't know any news. So to become intellectual they join tukhda gang. But some are really having Jihadi psychology. #ChappakDekhoTappakSe #ChappakOnTorrent pic.twitter.com/737domHSee

— Prakalp Up (@Prakalpupadh) January 8, 2020
#Tweet3
Release #Chhapaak online and no one will turn to cinemas to spend 200+ for tickets. The people she sided with don't have money to spend on anything other than bombs and chaos.#ChappakOnTorrent #BoycottChhapaak

— Aryan Singh (@Innocent_Fella) January 8, 2020
#Tweet4
Any body wants torrent link of #Chappak do let me know.. will not watch film of @deepikapadukone from now.. #ChappakOnTorrent #TukdeTukdeGang #ShameOnDeepika

— PRANAV (@dhonisi11468310) January 8, 2020
#Tweet5
Sorry Laxmi Agarwal, I'm not going to watch #Chappak in theatre. I will watch #ChappakOnTorrent.#boycottdeepikapadukone #boycottChhapaak

— Abhi (@FitThePattern) January 7, 2020
#Tweet6
#DeepikaWithTukdeTukdeGang#ChappakOnTorrent#avoidchappak#DeepikaWithTukdeTukdeGang#DeepikaWithTukdeTukdeGang#DeepikaWithTukdeTukdeGang#DeepikaWithTukdeTukdeGang#DeepikaWithTukdeTukdeGang#DeepikaWithTukdeTukdeGang#DeepikaWithTukdeTukdeGang

— संजय बहुगुणा 🇮🇳 (@Iam_bahuguna) January 8, 2020
#Tweet7
I will tweet story of #Chappak movie and every upcoming movies Deepika Padukone & Ranveer Singh.

Not only that Google drive link/telegram/torrentz of their movies.

You are with Anti Nationals

Stay With Them.#Boycott_Chhapaak

— your coffee ☕ (@Wacky_guy) January 9, 2020
But what did Deepika Padukone do wrong to face the ire of keyboard warriors? Well, the 34-year-old decided to take a stand for what she believes is the right. With folded hands and determined golden silence, Deepika made everyone look up to her by openly condemning the brute force attack on JNU students and teachers. JNUSU president, 23-year-old Aishe Ghosh was left bloodied by coward attackers. Deepika Padukone Visits JNU to Express Solidarity With the Students, Stands Beside Injured JNUSU President Aishe Ghosh and Former Student Leader Kanhaiya Kumar (View Pics).
JNU violence was condemned by everyone including a section of Indian film fraternity that unsurprisingly did not feature big names who like always chose to remain mum on the matter. But all of that changed after Deepika Padukone showed her steely determination. And she is in no mood to be bothered about the personal milestones and achievements. Despite all the threats and hate, Deepika and Chhapaak hope to rise.