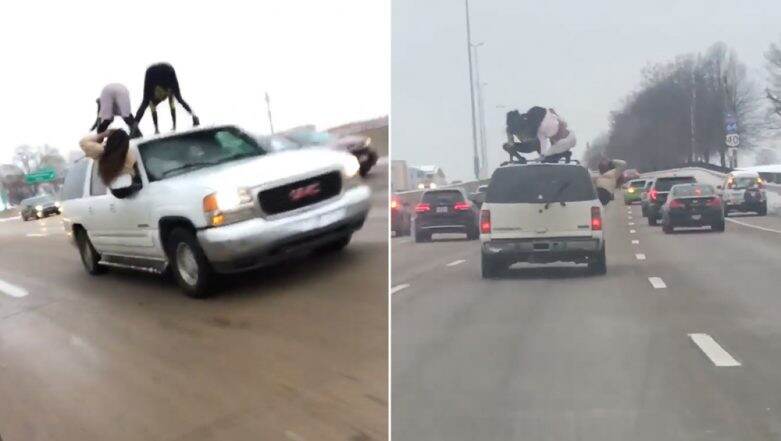 In an absolutely absurd case from Interstate 64 in St. Louis, two women were seen twerking on top of a moving vehicle while one of the other women inside the car was hanging halfway out of the passenger window to record the two twerking. The video is going viral but for all the wrong reasons and is infuriating the internet. The video has received backlash from people, pointing out the insanity of the women insane and calling out the police for not being catching hold of the women. The car on which they were twerking had no number plate on it and the whole scene was caught by an office-goer, Jackie Friedhoff. Video of Boy Shooting His Birthday Cake With Bullets Goes Viral, Meerut Police Denies to Probe.
If an attempt of getting a video to be posted on various social media apps to garner likes and attention, which it seems like to be, this can be called as just another way people are misusing social media. She posted on Facebook that she saw the scene while she was leaving for work that day and managed to capture it on her phone. She uploaded the video on Facebook with a caption, "Leaving work today & see this......No comment *facepalm emoji*" Take a look at the videos.
"But where are the police when this stuff happens busy lurking around corner trying to find somebody going 5 miles over the speed limit get on these highways," somebody commented. "And if they fall and you run them over it's your fault smh they must be on something to be twerking on top of a moving vehicle on the highway," read another comment on the Facebook post.