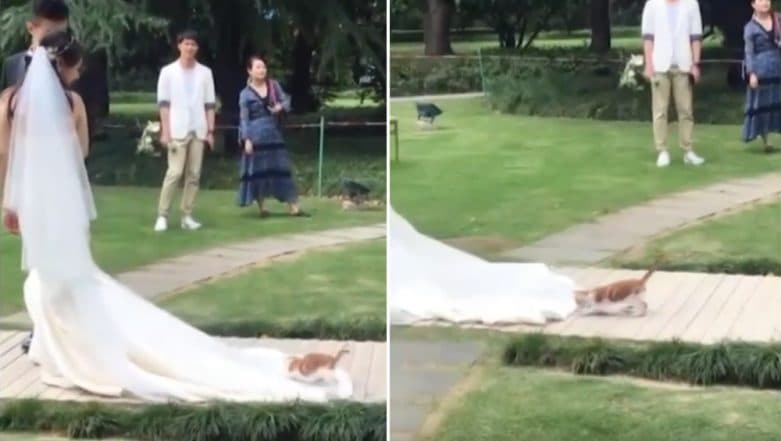 A recent video that is going viral is a treat for cat lovers. This hilarious yet awe-inspiring video of a cat that takes a ride on the bride's wedding dress is winning hearts on the internet. The cat just refuses to move out of the wedding dress train. The footage has reportedly been captured in Shanghai, China shows a playful little cat lie on the wedding dress train on its back and enjoying getting dragged along while the bride walks forward.
The bride smilingly pulls the dress trail from below the cat, and you can see the cat trying to hop back onto the dress material. The video is so cute that people can't stop sharing it. On National Cat Day 2018, Watch These Funny Cat Videos and Super Cute Kitten Pictures to Bring a Big Smile On Your Face.
Take a look at the cute video of a little cat taking a ride on the woman's wedding dress train.
The guests in the video just like the viewers of the video cannot stop smiling and become amused by the cat who wants to tag along with the newlyweds. The bride can be seen smiling and gushing over the cat. We are sure her big day is going to be memorable forever. Some people also believe that cats in the wedding can be a good omen and that they bring luck and prosperity to the newlyweds and their life.