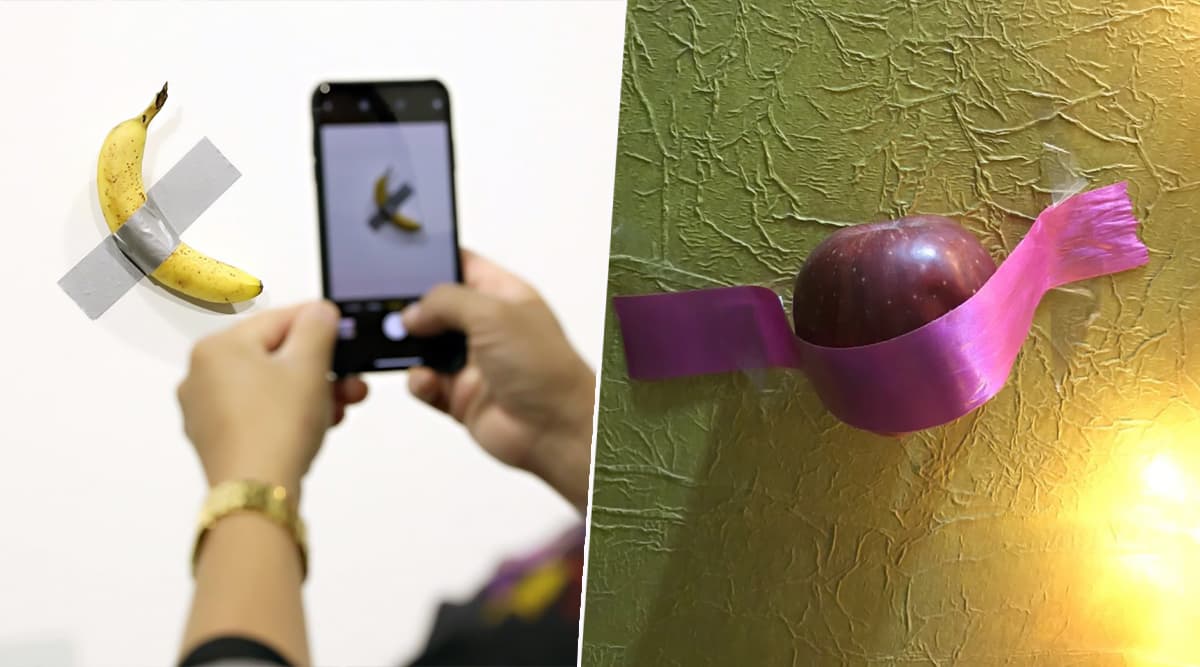 The duct-taped banana artwork by Italian artist Maurizio Cattelan which sold for $120K sent people into a tizzy! Even the lovers of art probably couldn't fathom the beauty in this art which fetched such a whopping amount. But now if the piece of banana from a Miami grocery store can fetch so much, then why not an apple? A Twitter user, decided to make the most of the buzz around this artwork and made her own, with an apple! She just duct-taped an apple on the wall and needless to say, Twitterati was stunned. While some found the fun in it, the girl related to the situation in Kashmir and their voices being controlled. Well, the internet can be interesting.
Last week, the art titled "Comedian," was displayed at the Art Basel in Miami. All it was, was a banana posted on a wall with a duct-tape around it. Moreover, there are three editions of this artwork. A Twitter user with handle @callmetikka decided to make the same with an apple. She posted a picture of an apple duct-taped on a yellow wall and in the caption wrote, "I'm a struggling artist. Please RT for visibility and support my art! TIA." And soon enough the picture did go viral, some leaving their funny reactions.
Check The Duct-Taped Apple Artwork:
I'm a struggling artist. Please RT for visibility and support my art! TIA pic.twitter.com/9ZSGafbA0j

— Girl next door 🥀 (@callmetikka) December 8, 2019
Here's The Tweet of Explanation of Her Art:
To anyone calling it meaningless. Join the dots.https://t.co/MbTSiXJaJm

— damaged but cute 🥀 (@callmetikka) December 8, 2019
The picture has got almost 200 retweets close to 800 likes. What's amusing are the reactions of people on it. Check some of the funny reactions on the same.
Can We Eat It?
So am I supposed to rip it off and eat and then say I'm a performing artist and you'll replace it with another expensive Kashmiri apple?

— Living like J.Morrison (@manwhosoldw0rld) December 8, 2019
An Onion Might Fetch Money
An apple is not suggestive of someone struggling

You should have put an onion..

— You (@BelaginaJava) December 8, 2019
Put onion , may be you get $120k .

— S K Mehta (@kooky_skm) December 9, 2019
You just missed it , should have used onions

— Pawan kumar (@makkmixx) December 9, 2019
Bidding in Monopoly Money
Ready to pay 130000$>>>>from my monopoly game

— aakkash (@aakkashpaalkar) December 9, 2019
About the art "Comedian", everyone was bewildered with the whopping amount it fetched and people wondered what would happen to the fruit once it decomposed. Well, and the next day, an American artist living in New York, went up to Art Basel and ate the banana! Does that mean the art was finished? No, the banana was replaced with another one in just 15 mins! Do we understand art?