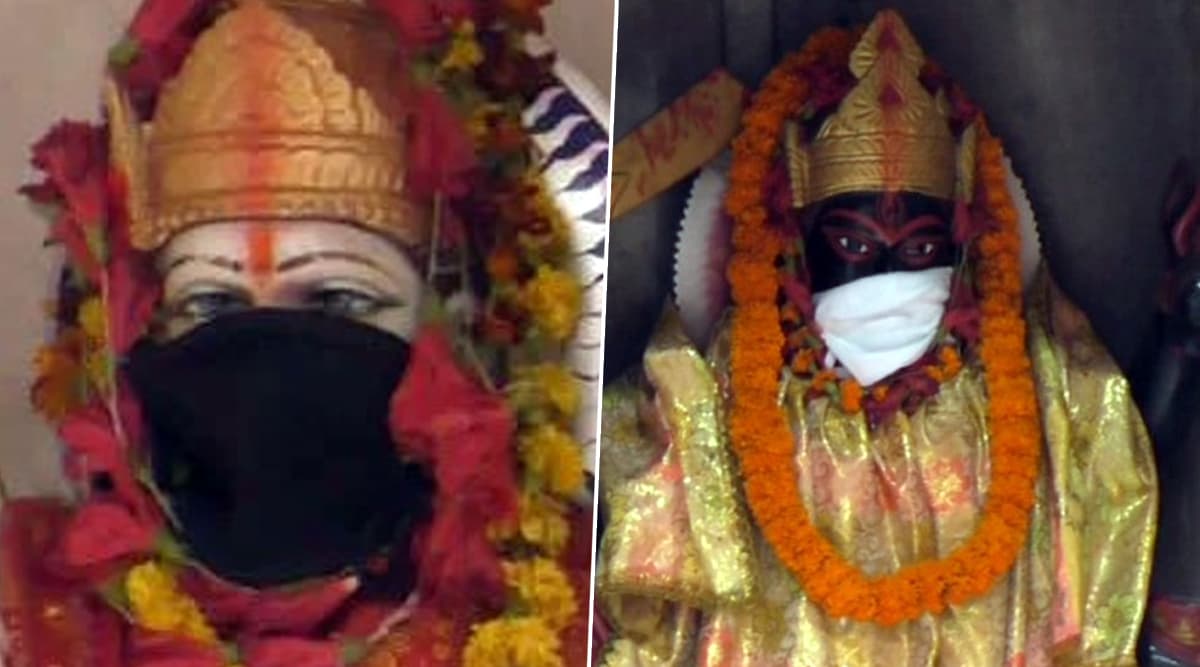 As the air quality dropped considerably low in the northern states of India, a temple in Varanasi gave anti-pollution masks to its deities. Pictures of Shiv-Parvati temple in the Sigra area of Varanasi with white masks covering their nose and mouth has gone viral on social media platforms. The temple authorities decided to put masks for the idols as the PM 2.5 levels rose following the Diwali celebrations. The priest of the temple thereafter decided to give masks to the idols of Lord Shiva, Goddess Durga, Goddess Kali and Sai Baba. Delhi Air Pollution Safety Guide: Know About Types of Anti-Pollution Masks, Which Ones to Buy and Online Availability.
When asked about the masks, the head priest of the temple told local media that just like the idols are covered in blankets during winter, they were given masks to protect them from air pollution. He said that after seeing the idols, devotees at the temple also began to wear white masks, thinking it was aimed at raising awareness on wearing masks. Doctors Give Tips and Ways to Stay Safe From Severe Air Quality in NCR.
Pictures of Deities At Lucknow Temple Wearing White Masks:
पर्यावरण की भयावह स्थिति को देखते हुए वाराणसी के सिगरा स्थित मंदिर में पुजारी हरीश मिश्रा और भक्तों ने बाबा भोलेनाथ समेत देवी दुर्गा और काली माता समेत साईं बाबा का पूजन कर मास्क पहनाया..#Varanasi #Pollution #VJpriyaJ pic.twitter.com/VyFOFdIhu5

— Priya Jain | پریا جان | પ્રિયા જૈન (@VJpriyaJ) November 5, 2019
Delhi's air quality continued to be in the "very poor" category on Wednesday. The air quality in Lucknow, Varanasi, Prayagraj, and Kanpur was hazardous on Monday causing a lot of health problems for people. Uttar Pradesh Chief Minister Yogi Adityanath held an emergency meeting last week, directing the officials to conduct an awareness drive on the negative impact of stubble burning in rural areas. However, stubble burning continues in different parts of the state. The air quality index was recorded at 324 in the national capital on Tuesday morning while last night it was at 309. An AQI between 0-50 is considered 'good', 51-100 as 'satisfactory' 101-200 'moderate', 201-300 'poor', 301-400 'very poor' and 401-500 'severe'. An AQI above 500 falls in the severe plus category.