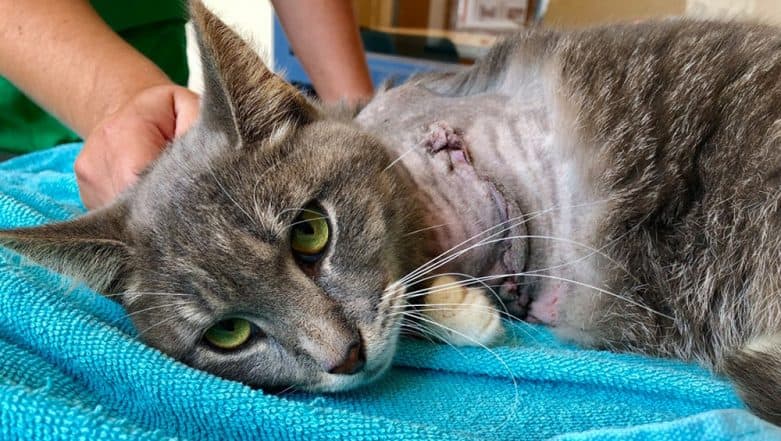 In a horrific incident, the front left paw of a cat was blown off after someone tied firecrackers to it. Pickles was taken to Humane Animal Rescue by Good Samaritans after it was found severely infected and infested with maggots. According to the rescue centre, the cat seems to have been injured during the Fourth of July celebrations. They determined that the firecrackers were tied to her left paw with rubber bands. As it paws were terribly affected, they had to amputate it. Story of the horrific animal abuse has irked social media users. Animal Cruelty in Mumbai: Cases of Dogs Being Poisoned, Beaten to Death on the Rise in the City.
Kenny Skepanski who found the injured cat and took it to the animal rescue was quoted as saying, "I had to help. She was badly hurt, and I couldn't let any animal suffer like that." Jamie Wilson, director of medical business was quoted as saying, "There really wasn't any paw left. I had to stop her from eating and drinking too quickly so she wouldn't get sick." Chinese Woman Gets Plastic Surgery Done on 'Ugly' Pet Cat, Spends £1,100 to Get to 'Correct' the Feline's Eyes, Slammed for Animal Abuse.
With her condition being far from normal, the rescue centre had to amputate her legs. They said that Pickles is three years old and is expected to make full recovery soon. Pickle's finders (Kenny & Kellie) said, "We had to help. She was badly hurt, and we couldn't let any animal suffer like that. We feel so relieved knowing that she is in good hands, and that we played a part in saving her life. We wish we could help more animals in need." Man Gets Bitten by a Turtle on Lips After He Tried to Smooch Him During a Fishing Trip in Massachusetts (Watch Video)
Check Out Pictures of The Cat Shared by The Animal Rescue:
Fireworks burst during the Fourth of July celebrations often injures animals and news. The noise of fireworks makes canines feel tensed and send them into a panicky mode. Considering how dogs and cats are affected by the noise, people often volunteer to help them get through a tough time.