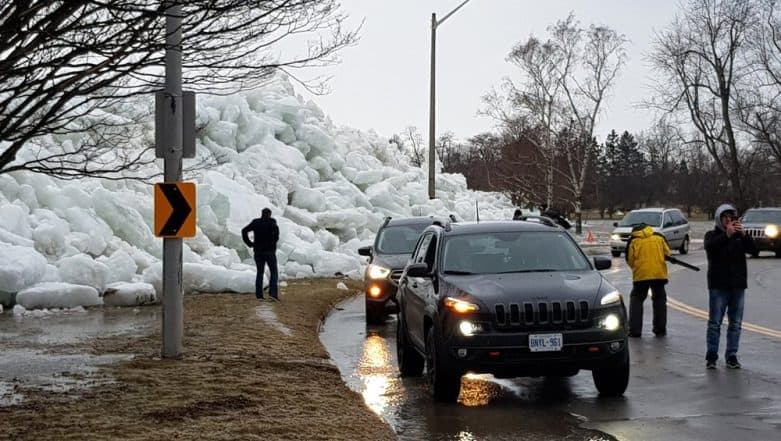 Strong winds have caused terrible chaos across the East coast bringing ice bricks over the Great Lakes on the shores of Lake Erie in North America. Residents along the lake including those in Hoover Beach and New York have been asked to relocate due to the ice tsunami. Also known as ice shoves, this incident causes road blockades with piles along with the side of the road after they make landfall.
Niagara Parks Police Service took to Facebook sharing video of ice blocks tumbling down from a pile asking residents to be vigilant. With piles of ice being formed the Niagara River Parkway near the Mather Arch in Fort Erie, it was closed by authorities on Sunday. The decision was taken for drivers' safety after ice blocks were being blown over a retaining wall. The National Weather Service in Buffalo warned that wind speeds could reach up to 75 mph and cause largescale damage to trees and power lines. Niagara Falls Freezes! Check Out Mesmerising Photos And Videos of the Icy Waterfall on US And Canada Border.
Here is the video of 'Tsunami Ice' shared by Niagara Parks Police Service:
Residents of Hoover Beach were asked to evacuate after the situation worsened:
Niagara Falls reported peak winds at 74 mph.
This ice tsunami is one of the craziest things I've ever witnessed. Starting to bulldoze trees and street lamps. #onstorm #onwx #forterie #windstorm #windstorm2019 #seiche #iceshove #icetsunami @ReedTimmerAccu @NWSBUFFALO @EC_ONweather @weathernetwork pic.twitter.com/SHj8jXCDqI

— David Piano (@ONwxchaser) February 24, 2019
Some photos show ice blocks between 25 and 30 feet high near people's homes.
An incredible sight along the Niagara River in Fort Erie as strong winds from today's storm have pushed hundreds of chunks of ice on shore over barriers. #ONstorm pic.twitter.com/QYgHa7PcQb

— Cody Law (@CodyLaw1) February 24, 2019
The storm knocked down trees and electricity to around 6,25,000 people in the Great Lakes region and the Northeast. High wind warnings have been issued in more than 90 million people in Washington, Philadelphia and Boston. Officials have requested the public to stay out of the affected regions and that Woodland Fire Department would check on residents going door to door. The agency also said, "This is a particularly dangerous situation! If you must travel be prepared for extensive damage and downed power lines."