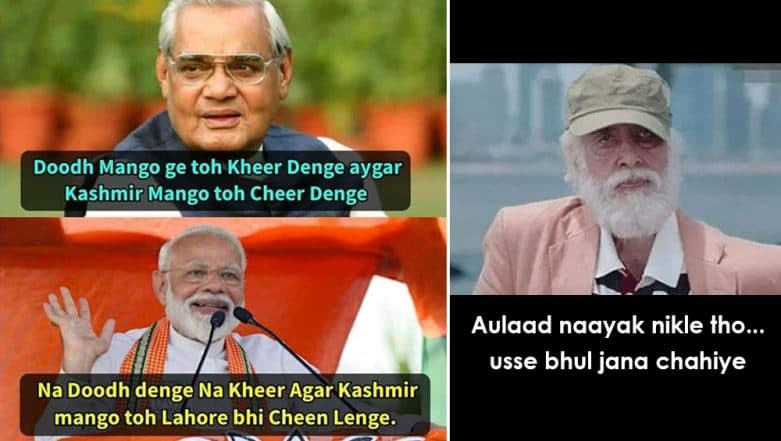 Pakistan is celebrating Independence Day today, August 14, 2019. But the neighbouring country has a different history with India that even words would fail to describe. But memes could express well. And that is what Twitterati is doing. With #HappyBirthdayBeta, India mercilessly trolls its neighbouring country with funny memes and jokes. From the two countries endless debate on Kashmir to highlighting Pakistan's terrorism, social media users are savagely coming out with one-liners. A little mean though, but the tweets are absolutely hilarious, and you cannot ignore it.
In 1947, two countries got freedom from the British regime: India and Pakistan. The neighbouring country achieved its independence a day ahead of India, on August 14. The South Asian country celebrates its Independence Day today. But India is wishing or instead trolling them with funny memes and jokes.
Check Out the Tweets:
Once a wise man said

so no #HappyBirthdayBeta pic.twitter.com/g1nKZt0nfh

— Ashutosh rajpoot (@ashu7r) August 14, 2019
Isn't it Hilarious?
#HappyBirthdayBeta #HappyBirthdayBeta Be more disciplined in coming year as you grow but we know you can never be wise till you get into many pieces sliced. Love from your #father. pic.twitter.com/VgbHex9bc1

— ADitya Chawla (@achawla10) August 14, 2019
How About a Tattoo?
Always remember this.. pic.twitter.com/ey3vshanYz

— Akhand Pratap Singh (@AkhandPratap777) August 14, 2019
Alright!
Happy independence day to pakistan and time has come to rethink ur policies in kashmir. Kashmir is ours, forget kashmir and focus on pakistan development. #HappyBirthdayBeta pic.twitter.com/qaHPscEQow

— Saurabh dubey (@saurabhdubey69) August 14, 2019
Under the Indian Independence Act 1947, British Raj gave independence to the Dominion of Pakistan which comprises West Pakistan (present country) and East Pakistan (now Bangladesh). While the neighbouring country celebrates its independence in full thrill today, India will observe its 73rd Independence Day, tomorrow on August 15. The preparations to honour the country's freedom is at full swing.