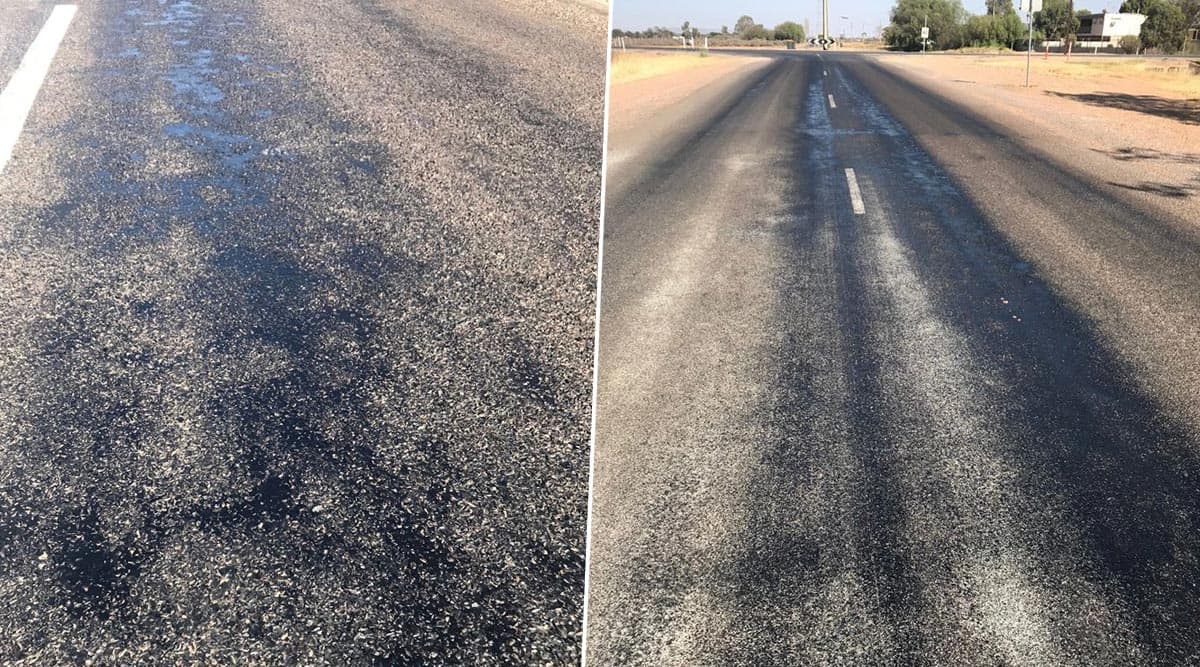 Australia is witnessing the worst climate in its history. Where it is ferociously cold in pockets of North America and Asia, the country in Oceania is choked by the hottest December weather anywhere on Earth. According to reports, some South Australian towns tipped 50C on December 19, with the mercury hitting 49.9C at Nellarbor—the state's hottest ever day this month. It is so hot in the country, that roads have started to melt! Yes, you read that right. Port Augusta City council took to Facebook sharing pictures of streets, portions of which have softened under the sun. The construction to fix the roads is on, and citizens are urged to report immediately, in case they witness such incidents. Australian Woman Cooks Sunny Side-Up Egg on Sidewalk As Heatwave Hits Melbourne. 
According to the Bureau of Meteorology (BOM)'s recorded measurement, the heatwave lasted for four days. In some areas, temperatures have thankfully dropped a little, while soaring in others. Sharing the pictures of roads melting under the sun, the Port Augusta city council asked the residents to be aware of such instances. The council also reported that a contractor had been engaged to spread rocks over the problem areas. Australian Man Roasts Pork Joint in His Car As Temperatures Set Soaring. 
View Pics:
During this time of the year, Australians experience summer. But it is never this hot and never for so long. The scorching heat even led people cooking meals under the sun. A Perth resident shared images of pork roast that he cooked inside his Datsun Sunny, warning people not to leave children and animals inside a parked car. Again, another woman filmed herself making a sunny-side-up under the sun.
High temperatures and strong winds are fanning bushfires around Australia, including more than 100 in New South Wales. Heat and smoke in wales have caused an increase in hospital admissions. A state of emergency has also been declared in New South Wales amid fears of a record-breaking heatwave will worsen the state's bushfire crisis.