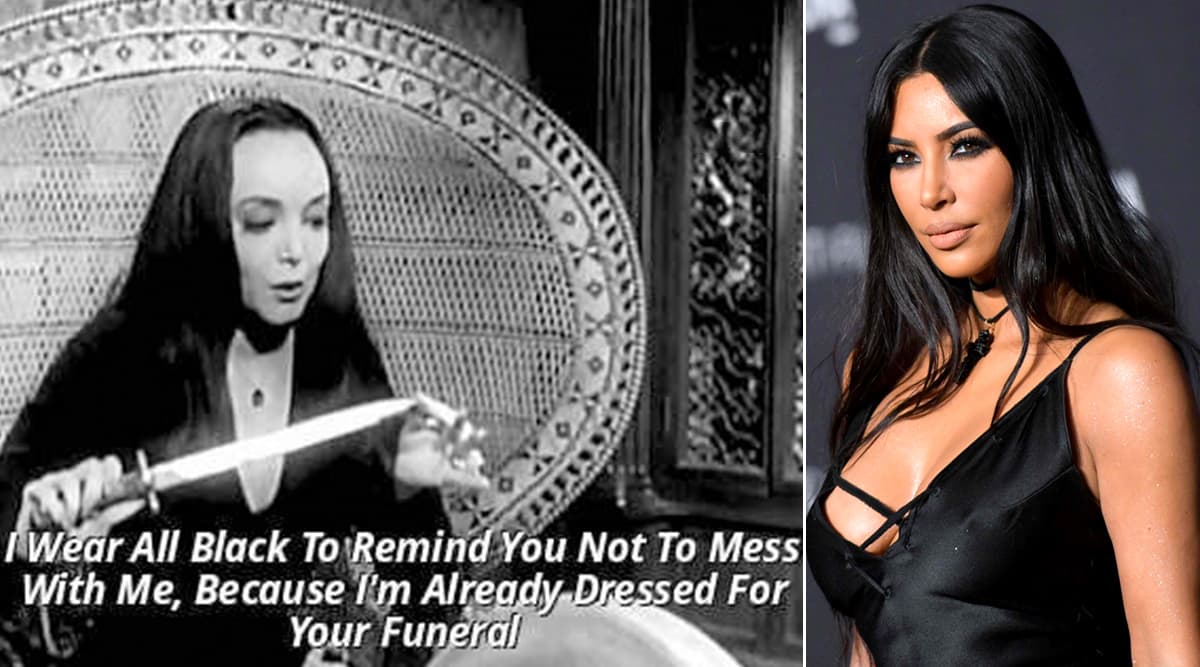 Kim Kardashian is out of ideas for Halloween and needs your help. The entire KarJenner family is known to step up their costume game every year and the sisters bring us something crazier every year. But now, Kim is out of ideas and needs our help. When she asked Twitter to help her out, Twitterati had a rather funny reaction. We're not sure if the Keeping Up with the Kardashians star got any help or inspiration here, but we definitely got some hilarious memes out of one harmless tweet by the star. After all, everything the Kardashians do becomes a meme because of the haters. Sexy Vampire Fangs Is The Spookiest Nail Art Trend That YOU HAVE TO TRY This Halloween! (View Pics).
Kim Kardashian and her sisters usually go out in teams and dress to kill. Each one puts on their glam face on and we love their attires. Last year, the family dressed as Victoria's Secret angels and it was jaw-dropping. But it looks like they're now exhausted. Kim has been asking Twitter to come and help her for her this year's costume and as we expected, twitter trolled her. She got trolled with not a single genuine answer and we can't help but laugh over it! Here are some of the best memes and tweets in response to Kim Kardashian's tweet. Kim Kardashian Gets Trolled For 'Used-Condom' Met Gala 2019 Dresses She Wore to the Ball and After Party.
Kim Kardashian Asking for Help
Need Halloween costume ideas!!!

— Kim Kardashian West (@KimKardashian) October 13, 2019
It's Britney
This pic.twitter.com/Hs8SgFp7ZF

— Mary (@shammbamm18) October 13, 2019
Perfect for Halloween
Morticia Addams pic.twitter.com/xoO9MADeNL

— thamy (@stormiwebstr) October 13, 2019
Awkward!
BRING THIS BACK pic.twitter.com/eiXgpvgopJ

— Kanye Source (@KanyeSource) October 13, 2019
There We Go, Again!
ray j's mistress?

— Luis (@gvlindo714) October 13, 2019
Okay, This is Hilarious!
Taylor Swift.

— AppetitexJovi 🤘 (@SummerMckagan) October 13, 2019
You Know Beyonce Doesn't Like Her, Right?
Ano people would go mad but Beyonce ??

— Declan Massey💽 (@DeclanMassey808) October 13, 2019
Why?
Periodttt pic.twitter.com/RDcKy1lV7Q

— ruicyrus (@ruicyrus) October 13, 2019
While she got trolled to no end, there were some who suggested Addam's Family a lot. We're not sure if there is something we're missing behind the suggestion or it's just an innocent recommendation. Some have also suggested she tries out Elle Woods from Legally Blonde and we wonder how she'll pull that off if she does pick Elle Woods.