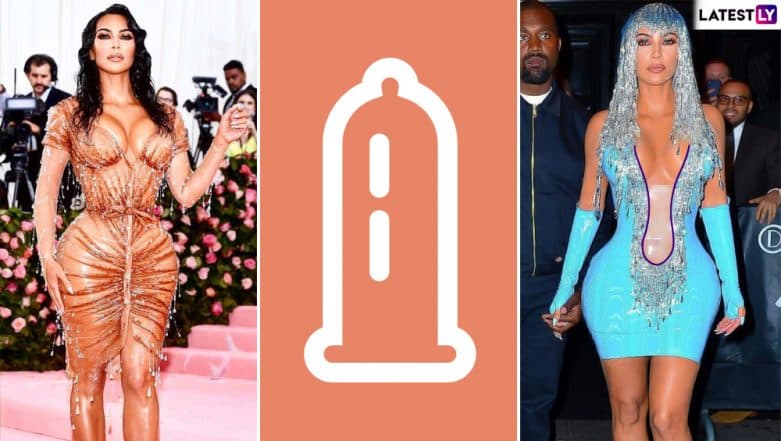 Kim Kardashian, as usual, conquered the Met Gala 2019 pink carpet and there is no denying! But trolls on social media have their own world where you really can't say what they come up with. Let's give you today's tea, Kim Kardashian's dress was compared to condoms online. And we are talking about both the outfits- Kim Kardashian's pink carpet nude, wet look body-hugging Mugler dress and the after party blue latex outfit. Both of her bodycon ensembles were compared to condoms and we have no idea why. So apparently, her nude wet dress looks like a used condom and her blue latex bodycon dress had this plunging neckline detail that forms a shape of a condom on an erect penis. We are not saying anything, you decide after checking out both the photos. Met Gala 2019: Kim Kardashian's Nude Dress Wins the Internet, But Her Nature-Defying Teeny Tiny Waist Doesn't.
Kim Kardashian Met Gala Pink Carpet dress:
View this post on Instagram
Kim Kardashian Met Gala after-party dress:
View this post on Instagram
Here are the reactions that say Kim Kardashian's Met Gala outfit looks like condoms:
Why did Kim Kardashian wear a big condom to the Met

— Toni-Marie White (@toniwhitee) May 7, 2019
This
They said #kanyewest entire #MetGala look cost just $43 - like 16k ??? meanwhile someone said Kim looks like she's wearing a used condom 😭😭 pic.twitter.com/68UBs2bkQq

— 🅼🆁🅳🆁🅴™️ (@officialmrdre) May 7, 2019
Can't
can't believe Kim wore a condom to the Met tsk tsk tsk

— 𓆣𝕸𝖆𝖗𝖞 𝕾𝖍𝖆𝖜𓆣 (@redrumreh) May 7, 2019
No words
does kim k's met gala outfit look like a used condom or is it just me

— amy (@__amynguyen_) May 7, 2019
LOL
can't believe Kim wore a condom to the Met tsk tsk tsk

— 𓆣𝕸𝖆𝖗𝖞 𝕾𝖍𝖆𝖜𓆣 (@redrumreh) May 7, 2019
Bedazzled condom
Wow you guys dont resepect kim....

Hanzi she looks like a bedazzeld condom 😂

— arumlily (@Arumlily92) May 7, 2019
Like seriously
Kim was wearing a condom for a dress and Kanye didn't even bother.

— purge the synths (@Sir_Archangelus) May 7, 2019
Can't even
Kim Kardashian looked like a wet condom, ICONIC

— 🅙🅔🅡🅔🅜🅨🅙🅔🅝🅝🅔🅡🅦🅔🅢🅣 (@jeremysant_) May 7, 2019
Please kill me
Kim showed up in a used condom. Goodnight.

— Jalen Hunter (@Jalenhunter_) May 7, 2019
LOL
They're not it and Kim K. look like she wearing a used colored condom.

— BRIANNA (@briannalbridges) May 7, 2019
ROFL
If Kanye and Kim have sex later on they don't need a condom, they just need a bit of Kim dress and they are sweet

— Dylan Matthews (@DylanMatthews91) May 7, 2019
Like really
"This year's theme is 'Camp'"

Kim: "Condom? My favorite!"

— Negrita 🇵🇦🏳️‍🌈 (@HustleAndFro_) May 7, 2019
LMAO
My mom said Kim Kardashian looks like a used condom lmao #METGala pic.twitter.com/hwTngsQ5A6

— Ashley (@AshleyFerrieri) May 7, 2019
Somebody also compared her dress to the umbilical cord
Meanwhile, is that an umbilical chord in the centre of your sweat bead dripping number @KimKardashian ??? 🧐 #KimKardashian #MetBall2019 pic.twitter.com/WcUCwZOn3Y

— craigbjacobs (@craigbjacobs) May 7, 2019
Not just this time, even in the past Kim Kardashian's latex dresses have been compared with condoms. Take a look:
#thingsthatlooklikethings #kimkardashian #condom #mennimemes pic.twitter.com/cocJbhIPwG

— Menni Sfyrios (@mbangg) June 7, 2015
Her after-party dress was also highly praised that she wore with a silver fringed wig and matching boots to complete the attire for the day.