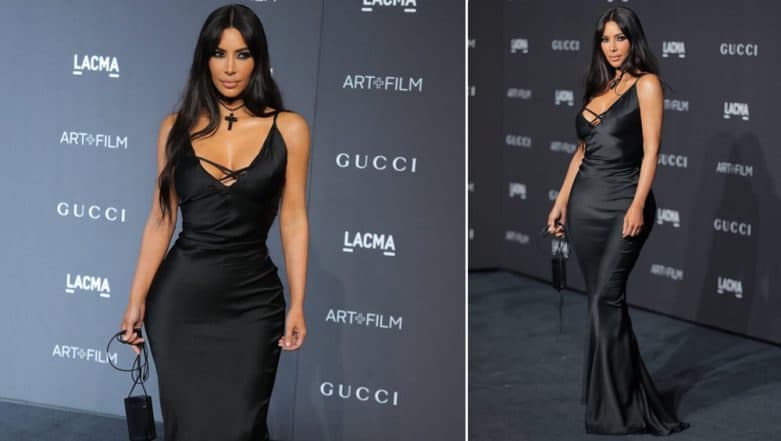 Kim Kardashian West is capable of turning heads wherever she goes. The reality TV star has become a subject of social media jokes and memes several times for her outfit choices. And her recent appearance at an art and film gala in Los Angeles has once again become a target of several jokes online thanks to her purse. Kim wore a sexy black gown but it was her purse which attracted all eyes because it looked like a laptop charger. Kim Kardashian Shares Pic Posing Awkwardly in Bed! Twitterati Gets Another Reason to Create Memes.
People commented that her purse looked like a laptop charger and talked about the odd shape of her accessory. Calling it an odd fashion choice, there were several jokes made on the sexy siren. Along with Kim, her sister Kourtney Kardashian also made an appearance in a black attire. But Kim's purse took all the attention. Some even called it Kayne's charger which she just got along. Kim Kardashian-West And Ruby Rose Are The Most Dangerous Names On The Internet - Here's Why. 
Kim Kardashian's Purse at an Event Captured More Eyes and Jokes
Was it Kanye's advice?
Kim: Babe, I'm heading out tonight. See you la-"

Kanye: "Wait! Here! *hands her laptop charger* It's perfect! You look outstanding!" https://t.co/9C1m30iY2O

— Zakeyah 🌹 (@Hazeleyes3100) November 5, 2018
Kim Kardashian carrying around kayne's laptop charger LMAO pic.twitter.com/9bqBdP1paL

— 🇬🇧👑Adam Goldberg👑🇬🇧 (@adamgoldberg28) November 5, 2018
Not a purse!
Haters will say she is holding a purse 👜

— Sajjal (@SeenJeemLaam) November 5, 2018
Everyone wants the charger!
Kim pls return my laptop charger ASAP.. @KimKardashian https://t.co/Kg4Rsowc4n

— NO ONE🎈 (@Lemaldivian01) November 4, 2018
My computer on 5% can I️ have my charger back

— Māyāh (@_MYYAAAA__) November 5, 2018
And some even gave her the laptop
Just to add to the conversation.....What would her major be in college? 💀 pic.twitter.com/SME97OUwVl

— Zakeyah 🌹 (@Hazeleyes3100) November 6, 2018
People were sure having a good laugh at her accessory choice. But well Kim does carry off anything so well, even if it looks like a charger. What did you think about Kim's latest avatar? Did you fancy the purse or the charger as the popular opinion? Do let us know.