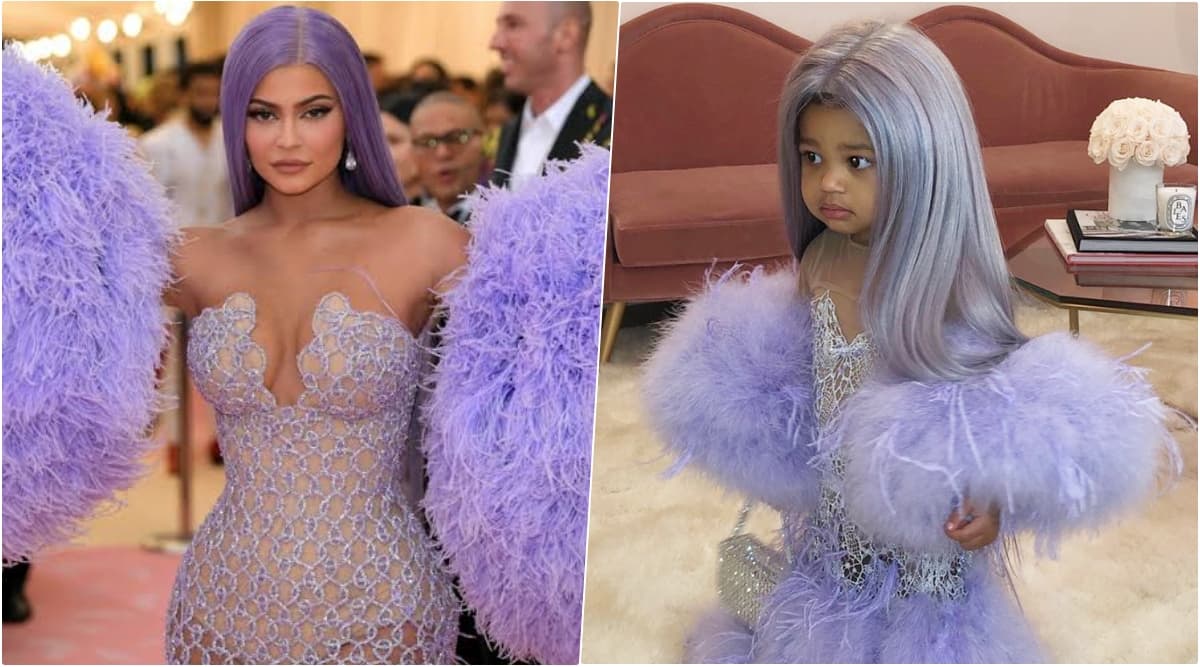 Kylie Jenner may not be ready for Halloween yet but baby Stormi knows exactly who she's going to dress up as. The Keeping Up with the Kardashians and Life of Kylie reality star recently posted a few pictures and a video of baby Stormi dressed up as Kylie Jenner herself! She's wearing a replica of Kylie's popular 2019 Met Gala outfit. Kylie even put a lilac wig on Stormi and the internet is losing their minds over this. We knew Stormi was Halloween ready when Kylie posted pictures of Stormi and Khloe Kardashian' daughter True, picking pumpkins for their Halloween celebrations. Kylie Jenner and Travis Go Separate Ways, To Share Custody Of Daughter Stormi Webster?
Kylie Jenner posted a video and two pictures of Stormi dressed up like her mommy and it's too cute. We all remember Kylie's iconic Met Gala outfit by Versace, with stunning detailing and pompom sleeves. Kylie and elder sister, Kendall were twinning at the Met Gala 2019 with their matching, colour coordinating outfits. And now baby Stormi is catching on in the fashion game as she was dressed as Kylie Jenner for early Halloween celebration. Her caption for this post read, "My baby!!!!!!!! 💜💜💜💜💜💜💜💜💜💜💜 I cant handle this!!!!". Kylie Jenner's Daughter Stormi Webster Believes Daddy Travis Scott Loves Her The Most!
Stormi Dressed as Kylie on Met Gala 2019 Red Carpet
View this post on Instagram
Kylie was not the only one who couldn't handle Stormi's cuteness in the costume, her followers also couldn't get enough of this! Sophia Richie commented with "Omg I can't deal". Jaclyn Hill commented, "OMG STOP!!!!!😭", Vanessa Hudgens said, "Dead😍" and Paris Hilton simply left a bunch of heart-eye emoji. Whether you like Kylie or not, you cannot deny her baby is absolutely gorgeous and her smile can brighten anyone's day!