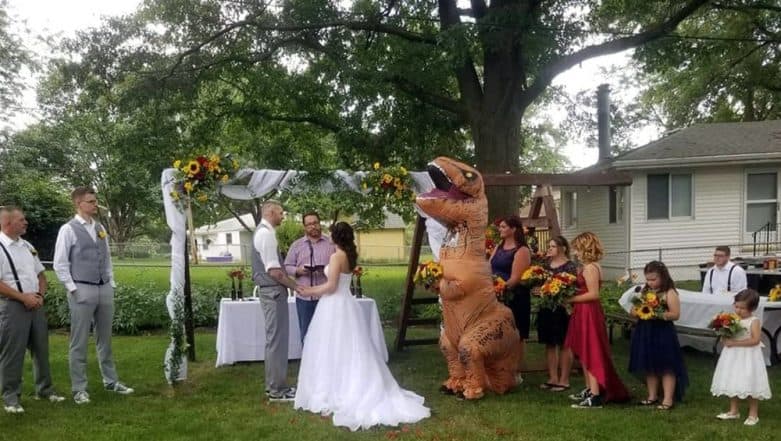 Being a maid of honour can be quiet pressuring because obviously you want to look your best. But a sister of a bride from Nebraska had nothing to worry about her outfit since her sister gave her the freedom to "wear anything." So Christina Meador, the maid of honour turned up as a T-Rex at the wedding. And with such a unique choice of dress, rather a costume, the pictures are bound to go viral! Christina Meador shared her T-rex avatar amidst the wedding scenario on Facebook and the pictures have gone viral on social media. British Cops Laugh Hysterically During T-rex Dinosaur Chase in Plymouth, Watch Hilarious Viral Video.
Christina Meador shared the picture from the wedding on Facebook and wrote, "When you're maid of honor and told you can wear anything you choose … I regret nothing." People on social media were mighty impressed and many thought that it was a brilliant idea they would like to imitate too. The bride too had no qualms about her sister's T-rex costume, as she knew Christina is not a fan of formal dressing. She told the Daily Mail, "I was trying to think of something that I would be willing to wear more than once and thought to myself, "Well, she did say anything, and if I'm spending more than $50, I want it to be a dinosaur costume, because they're fantastic and I've always wanted one. I sent her a text so that she could have a laugh - surprisingly she was ok with it!"
Here's a Pic of Maid of Honour in T-Rex Costume:
Funny right? She may totally look out of the place, but now she's got the attention of the people all over. While Cristina fulfilled her wish of being a dino at the wedding, she had some other ridiculous options too. It was the dinosaur costume idea that however stuck to her. She picked up the heavy T-rex outfit from a thrift shop for just $7. She even lost some weight so that she could fit in perfectly. No Boob Job for Bridesmaid! Bride Bans Friend from Getting Breasts Done to Be the 'Hottest One' at Wedding.
Christina has called this costume as a gift to her sister. "I had yet to find my sister a good gift. I had decided that she would appreciate the dinosaur costume and it would be fun to mess with her about wearing it during the ceremony," she told in the same report. Well, of course, not just her sister, but Christina has given ideas to several others on the internet for a funky maid of honour costumes.