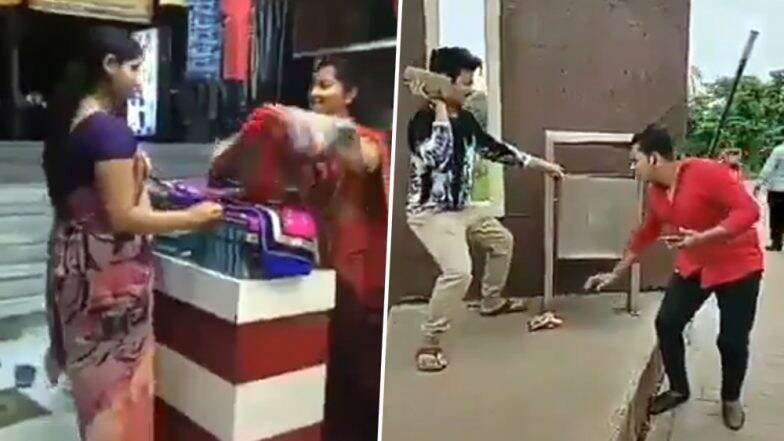 Anything and everything has the capability of going viral on the internet, given it is entertaining. And TikTok in the recent past has emerged as one of the biggest platforms where a variety of content gets uploaded. While TikTok is also known for its cringe content, praiseworthy work has also emerged from the platform in the past. And the recent one is a viral challenge that gives moral science classes to people in a funny way. Using the popular song Mere Khwabon Mein Jo Aaye from the cult movie Dilwale Dulhania Le Jayenge, it encourages people to do good. Known as #MereKhwabonMeinJoAaye or #MKMJAChallenge, people can be seen showing off funny dance moves while telling others to follow moral etiquettes.  People are also calling it the Swacchta movement. Hilarious 'Low-Cost' DIY Treadmill Video is Making Twitterverse LOL.
Some of the topics in the videos are about honesty, cleanliness and being kind to one another. With #MKMJAChallenge becoming a trend, we are now waiting to see celebrities joining the bandwagon. We are sure Bollywood celebs use the challenge to spread awareness on various pressing topics. Meanwhile, watch a funny compilation of the videos that is sure to leave you laughing. Most of the videos are about keeping our streets cleaning by throwing waste in the garbage. It shows how people threaten to hit those who leave wrappers on the road in a funny way. Funny Video of Monkey Washing Clothes in 'Desi' Style Goes Viral, Netizens Impressed.
Watch #MKMJAChallenge Below:
Why is this viral on social media ? 😂😂😂 #MereKhwabonMeinJoAaye #MKMJAChallenge 🤣🤣#quoteoftheday #Chandrayaan2#ChidambaramOntheRun

— Sarcastic Nana (@nanapatakarr) August 24, 2019
As the video went viral, people commented saying that the challenge should grip the nation. One of the comments read, "This should become a nationwide rage." The compilation has more than 1.6 lakh views. People also said that it should become the theme song for Swachh Bharat Abhiyan that promotes cleanliness. What do you think about the latest challenge? Do let us know in the comments section below.