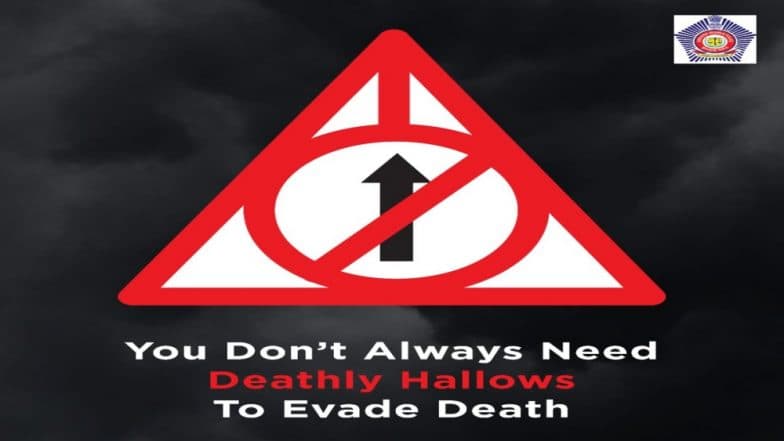 The Mumbai Police Twitter account is impressive with their tweets regularly. Attuned with the pop culture, be it Bollywood or social media memes, the Mumbai Police use all the trends to give out their message. Concerned about the safety of the citizens, the Mumbai Police social media account has awareness campaigns or measures to pass on to the public. This time the police used Harry Potter and the Deathly Hallows reference to talk of road safety. Using a road sign they made a Deathly Hallows symbol and won the hearts of not just the Harry Potter fans but everyone alike. Hello Potterheads! Mumbai Police's Harry Potter Tweet Is Sure to Bring a Smile on Your Face.
They called it the Magical Discipline and quoted Kingsley Shacklebolt from J K Rowling's book in their tweet. They gave a very important message of following the road safety rules and 'charming' the way to safety. They have always been creative with their social media messages and this one also resonates the same. Chai Pe Lo Aunty Inspires Mumbai Police's Tweet, 'Hello Fraaands! Helmet Pehan Lo to Have a Safe-Tea at Home!' 
Check out Mumbai Police's Harry Potter Tweet About Road Safety
"We're all human, aren't we? Every human life is worth the same, and worth saving." And you don't always need the deathly hallows for it, just follow simple rules to 'charm' your way to safety. #MagicalDiscipline pic.twitter.com/HuJVnbhOgB

— Mumbai Police (@MumbaiPolice) October 26, 2018
The deathly Hallows overcome death in Harry Potter's magical world. But if one follows the rules, they would not encounter death is the message put across very creatively by the Mumbai Police. The people on Twitter too were impressed with the latest tweet. Check how some of them reacted.
Never underestimate the sarcasm level of @MumbaiPolice,

Just wondering how dope the admin must be.❤💀

— Trustmeiamaliar (@Imritik_) October 26, 2018
I love you Mumbai police!

Never thought I'll say that to police...😅

— Aarjav Mehta (@AarjavPotter) October 27, 2018
— Ginger Graham (@2Tomboys2Divas) October 27, 2018
The coolest city police??

— Rohan roy (@Rohanro81525664) October 27, 2018
People are loving the creative side and it has been appreciated even before. It is good to see, the Mumbai Police social media team come up with such amazing stuff to keep everyone entertained as well as aware of some of the basic rules to follow.