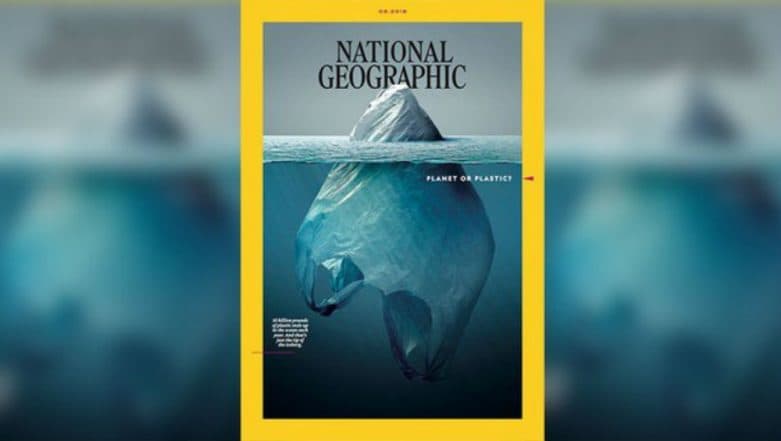 The latest cover of the National Geographic magazine shows the alarming case of plastic polluting our waters is facing. The brilliantly ideated photo features a plastic cover that looks like the tip of an iceberg thus showing the even bigger problem that lies underneath. The cover is a part of Nat Geo's 'Planet or Plastic?' initiative aimed to create and reduce "the amount of single-use plastic that enters in the world's oceans". The June 2018 cover is created by Mexican artist Jorge Gambo.
The magazine's senior photo editor Vaughn Wallace tweeted the cover saying, "Our latest @NatGeo cover is one for the ages#PlanetorPlastic." He also shared that starting from the June issue, they will replace the magazine's plastic wrapper with paper. A note of the cover photo reads, "18 billion pounds of plastic ends up in the ocean each year. And that's just the tip of the iceberg."
Here is National Geographic's June 2018 cover:
Our latest @NatGeo cover is one for the ages#PlanetorPlastic pic.twitter.com/NssiHOtaYc

— Vaughn Wallace (@vaughnwallace) May 16, 2018
The cover photo has already been well accepted by social media. Most praised the magazine for their efforts to raise awareness about a pressing topic the planet is facing. Twitterati soon noted how the cover is similar to Ralph Clevenger's iceberg image. National Geographic along with many things is known for their magazine covers that feature eye-grabbing photos. One of their covers in 1985 titled 'Afghan Girl' is considered the most popular.