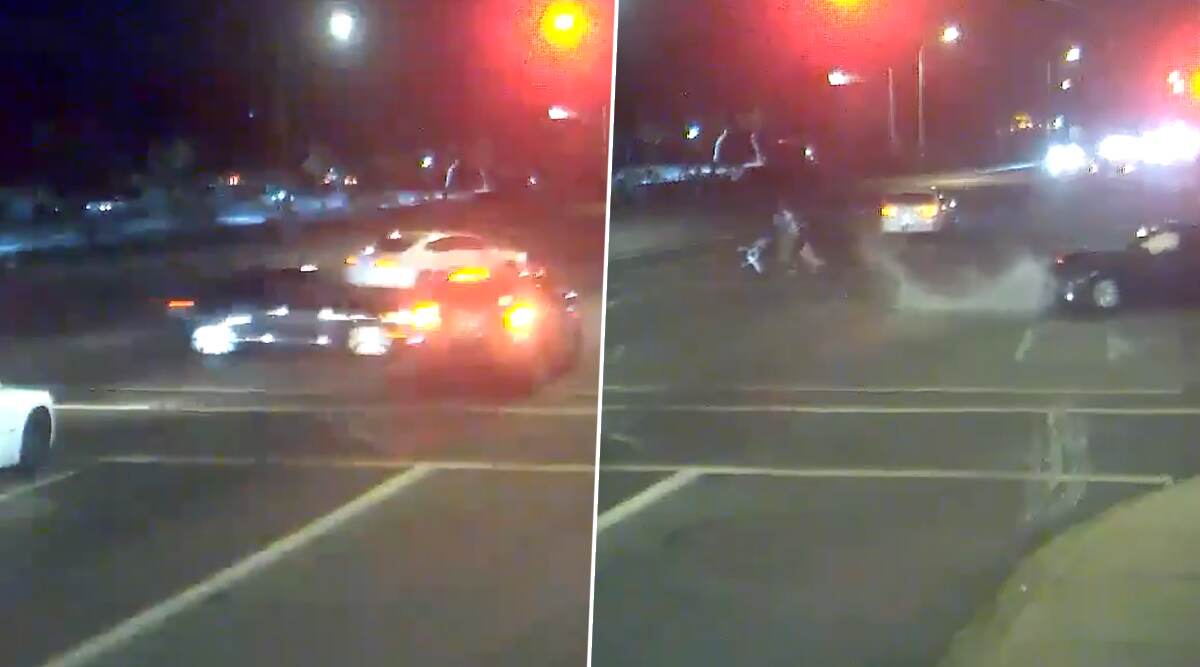 Video of a terrible accident showing a car crashing into a suspected drunk driver running a red light has gone viral on social media platforms. From the video, it seems that the car crash saved the lives of a couple crossing the street with a baby in a stroller. As the video went viral, social media users commented that the couple escaped miraculously. People said that the couple were quite lucky to be still alive while some it looked like divine intervention. The video was released by the Phoenix Police Department on Wednesday. The incident happened at a crosswalk at 53rd Avenue on Indian School Road in Phoenix around 10 pm on October 14. Video of Man Walking Away Unhurt Hit by a Truck Goes Viral: Here Are Similar Unbelievable Accidents Where People Survived.
The video shows cars immediately turning left after turning left in front of the couple as they cross the street. One of the vehicles was a Jeep driven by 23-year-old Ernesto Otanez Oveso. The clip shows him suddenly speeding into the intersection on a red light where the couple was standing. Shortly after that, a black Chevrolet Cruze driven by a 27-year-old woman slammed into the speeding car as it as about to hit the couple, thus saving them. Woman Miraculously Survives After Being Knocked Down And Run Over by a Car in China (Watch Video)
Video of The Car Crashin Saving a Couple:
An angel in the form of a Chevy Cruz may have saved the lives of a couple pushing a stroller through a Phoenix crosswalk at 53rd Ave & Indian School.

The innocent driver will be OK. The red-light runner was arrested for DUI. pic.twitter.com/Ypz8AQZrmi

— Phoenix Police Department (@phoenixpolice) October 23, 2019
Police said that Ovesa who was with a woman in the car tried to run away from the accident spot. He was arrested on DUI and aggravated assault charges. Police also found a gun in the Jeep so an additional prohibited possession charge was added. The woman who was with him was not found later. Meanwhile, the driver of that Chevy Cruz was a 27-year-old woman who suffered minor injuries.