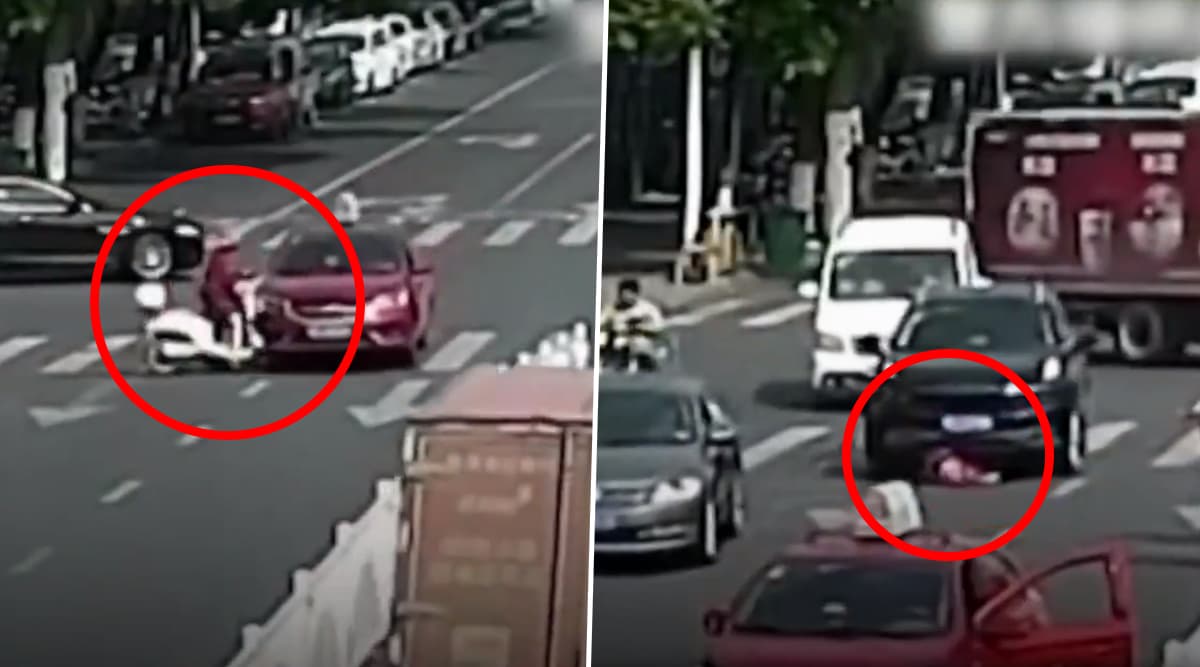 Video of a woman miraculously being saved from a terrible accident has gone viral on social media. The incident happened at Ma'anshan City in east China's Anhui Province. She was crossing the road on a scooter when an SUV hit her. She was knocked down by a taxi making her lose control of her scooter. The video shows her things lying in the air as she falls on the road. Fortunately, people ran to her rescue and lifted her from beneath the vehicle. Accident Video of Riderless-Bike Travelling 300 Metres With Kid Goes Viral.
Earlier this year, video of a woman being hit by a dumpster van had gone viral. In the clip, the woman who was praying to standing in front of a temple was knocked down and the vehicle almost went over her. The incident happened when she was praying in front of a Sai Baba temple in Gujarat. Read the entire story here.
Video of Woman Being Miraculously Saved From Accident in China:
Woman survives being run over by SUV in E #China https://t.co/OwREiKrn1d pic.twitter.com/klXn3o5n7m

— CGTN (@CGTNOfficial) October 15, 2019
The video was shared widely on social media and has received over 11,200 views. There have been innumerable such incidents where people were saved by what can be called as a pure miracle. And this clearly looks like one such incident. Here is a compilation of such incidents where people were saved from terrible accidents miraculously. These videos often get captured on CCTV cameras and later gets shared widely on social media platforms. People often credit these miraculous escapes to divine intervention or luck.