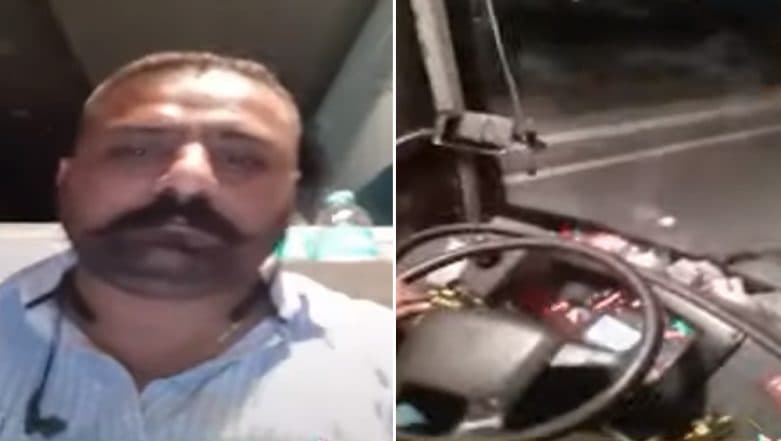 The crazy bug of making TikTok videos has caught on to so many people that many do not realise the dangers of it. A driver of Punjab Roadways was caught making a TikTok video on his way to Delhi. The erring driver Amanjot Singh has been suspended from his job. He posted a TikTok video while he was driving the bus from Jalandhar depot to Delhi. He filmed himself with a Punjabi song about drivers playing in the background. The incident took place a week ago and Singh has been fired from his job. Viral TikTok Videos Help Police Nab Gangsters in Delhi; Youth Carrying Pistols and Dancing to Honey Singh Songs Arrested.
Amanjot Singh was a contractual employee and put lives to danger as he made a TikTok video from his account while he was driving on the highway. Soon as the video reached the general manager of the Jalandhar depot, he ordered the dismissal of the driver. GM Parmeet Singh Minhas told in TOI report, "Somebody sent this video to me on Sunday and I instantly ordered to take the driver off road and also ordered his dismissal and blacklisting." Viral TikTok Video of Man Doing Stunt on 'Delhi Police' Vehicle Is Making Internet Furious!
Watch TikTok Video of Driver:
A bus driver of Punjab Roadways made a Tik Tok video while driving the bus. The video has now gone viral. Now, Punjab Roadways department has put him under suspension for making the video while driving the bus.

Details by Gurpreet Singh. pic.twitter.com/krS2o8na9A

— TIMES NOW (@TimesNow) July 11, 2019
The driver's hopes to gain some popularity on the video making app has cost him his job and in a way that he cannot even apply anywhere else. The blacklisting means he won't be able to work with the roadways again. Meanwhile, the GM also wrote to the health department for conducting dope tests of all employees of his depot. The Haryana Roadways Hisar depot had ordered drivers to not issue their mobile phones while driving until the destination just a few weeks ago. With the driver going ahead to make a TikTok video, the dismissal seems just right.