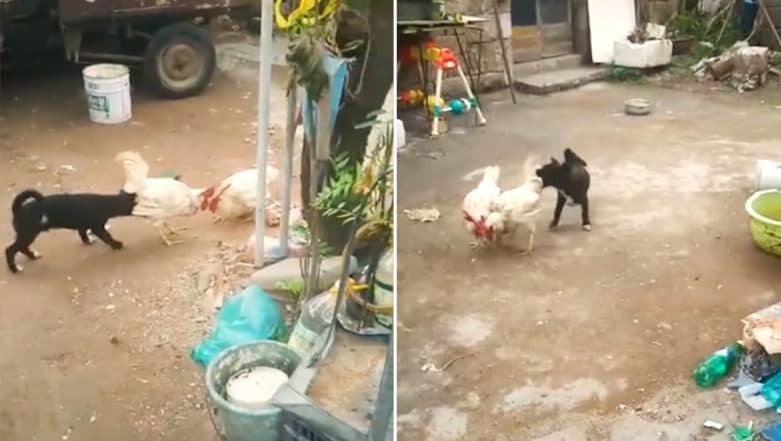 Puppies are adorable and there is no reason why someone may disagree. Their innocent face is enough to get a smile on your face. Some dogs may come across as dangerous and scary but pups are friendly and cute in whatever they do. There are so many videos of puppies online which can be a good relief to stress. Now a new video is going viral which shows a pup desperately trying to save a cockfight. New Trend of Dog-Shaped Ice Creams is Going Viral in Taiwan, Watch Video and Pictures. 
The incident is from Coimbatore shot by businessman Muraleedharan who is the owner of the fighting cocks. An animal lover, he has rabbits, cats, dogs and cocks in his house compound. Two of his roosters got into a fight and the peace-loving pup clearly could not see them so aggressively pecking each other. The black puppy then stepped in tried to separate these two roosters. He is seen trying to pull feathers of one of them to pull them apart but fails. Cuteness Overloaded! Dog Drags Little Girl From the Ocean's Waves Thinking She Is in Trouble of Being Washed Away; Watch Video. 
Watch the Funny Video of the Puppy Trying to Save a Cock-Fight:
The roosters seem very angry but thankfully do not attack the puppy instead. Does it not look like a true sibling fight, wherein two are fighting and a third one tries to stop them? Although the puppy tries to make them stop, he too looks scared of them.