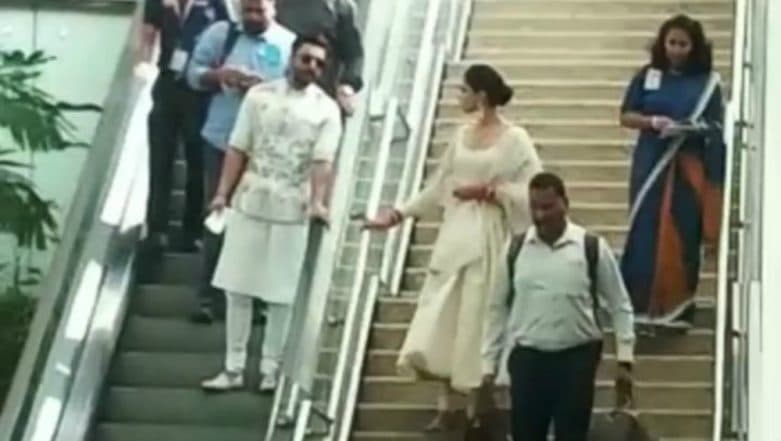 'Opposites Attract' - we have grown up reading, watching and hearing this romantic cliché thanks to rom-coms and mushy fictions. But here's one real-life couple who will make you believe in its true existence. We're talking about Ranveer Singh and Deepika Padukone who tied the knot past week in Italy. The lovebirds are known to be poles apart when it comes to their personality traits. And, fans got to notice it again courtesy a viral video taken at an airport.  Deepika Padukone-Ranveer Singh Wedding Album: Here are All Picture-Perfect Moments From Couple's Destination Wedding in Italy.
Upon returning to India after their extravagant destination wedding at Lake Como in Italy, Ranveer and Deepika headed off to Bengaluru, actress' home city for the grand wedding reception. The enthusiastic paparazzi who has been on their toes capturing every little movement of DeepVeer caught a funny and memorable moment. It showed Ranveer taking escalator as his wife walked down the stairs. And all this while, his eyes are locked on her as the lovebirds are busy conversing. Deepika Padukone-Ranveer Singh Bengaluru Wedding Reception: Date, Menu, Guests, Outfit Details, Venue Pics of the Grand Event.
Their fans had the best reactions seeing this video of the cute couple. They write how Deepika avoided taking escalator as she wore a heavy Sabyasachi Anarkali suit. Another user wrote the actress to be a fitness freak while Ranveer is the typical chillax lazy Indian husband! Whatever be the case, these two are different people who have fallen head over heels in love with each other.
Watch Video of New Husband and Wife, Ranveer and Deepika at Bangalore Airport!
After having a hush-hush wedding in Italy, the couple is hosting a string of receptions in India, first being in Bengaluru on Wednesday. According to a Filmfare report, it will be held at the Leela Palace in the 'garden city.' The duo will again be seen in designer Sabyasachi outfits. According to the sources and media reports, DeepVeer will be hosting their second reception in Mumbai on November 28, and yet another party for their Bollywood peers and folks in December.