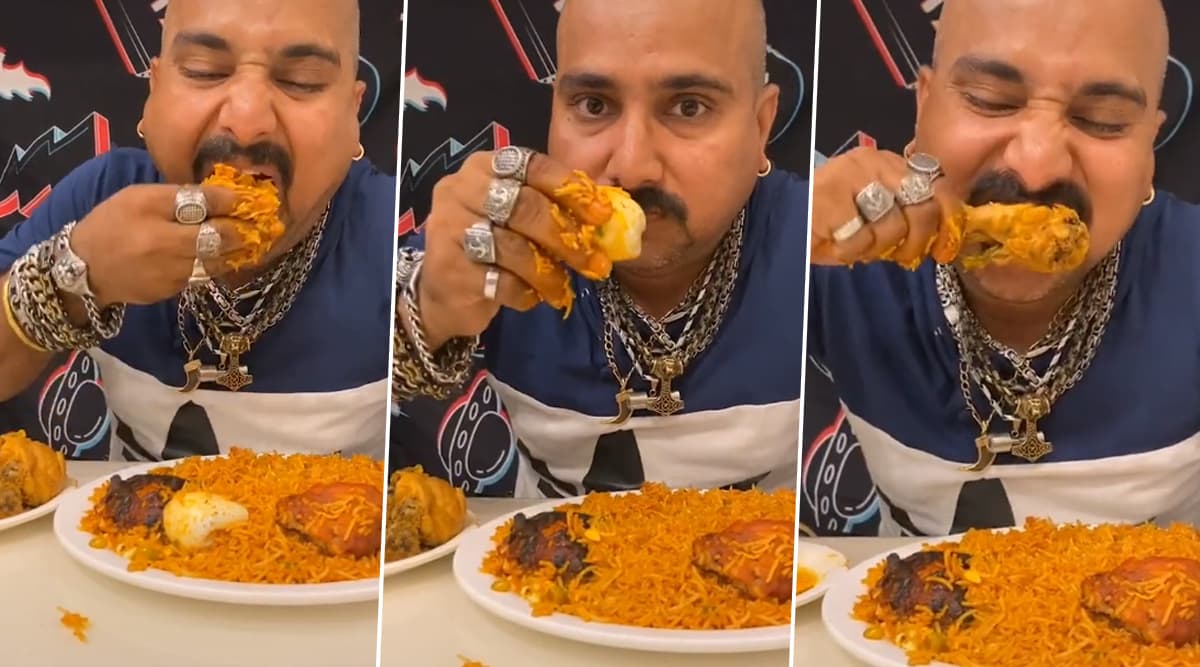 You must have watched the popular mukbang videos where creators eat on camera and become famous. And if you don't know what mukbang videos are, we can at least tell you what exactly is probably the worst yet funny example. So oftentimes people choose to eat a lot in front of the camera and actually make money out of it. So many fans love watching other people eat but Ulhas Kamathe took it a notch higher. He shot himself binging on some "chicken leg piece" and is now going viral after his mukbang video was posted on TikTok. In the video, he could be seen biting into a "chicken leg piece" in the funniest way and shoving "Chicken Kabsa Rice" down his throat while also telling people what he was eating.
TikTok influencer goes by the name @ulhaskamathe can be seen sitting with two plates of food and completely draped in silver chains and rings. He announces "Chicken kabsa rice" before eating a big portion of rice with his hand, that is completely smudged with food. He then does the same thing with chicken leg piece in the second plate. "Chicken leg piece," he says before digging into the meat.
Watch Video:
The video received a heap of comments from fans. While many people loved the way he was binging on so much food, some people were also disgusted as asked him to use a spoon or fork. Many people couldn't help but note the way he said 'bis' instead of 'piece'. A comment read, "When he said 'chicken leg bis' I felt that". Another TikTok User said, "How many more chickens before he has quenched his insatiable hunger?". A fan said, "Why does this make me so happy." Well, feelings are the same! While this is not the kind of mukbang we expected, it isn't that bad actually!