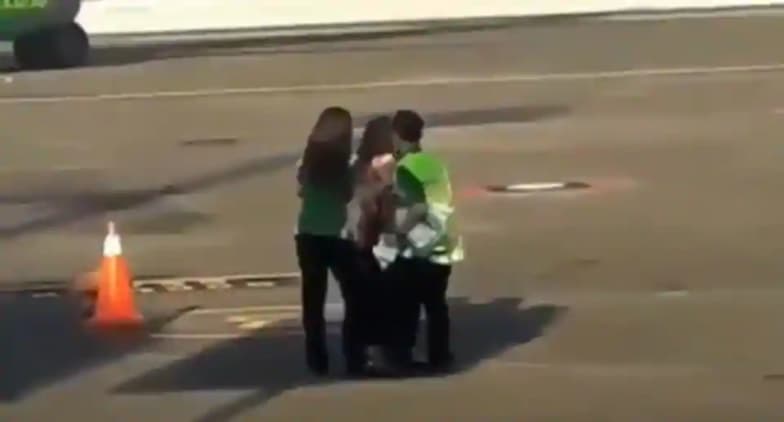 Missing train or flight is a nightmare which no one of us wants to go through. In a bizarre incident, a woman tried to catch aircraft after missing her flight has been captured on camera. The woman in the video can be seen trying to pass through the security and chasing down the moving plane. The dramatic scene which is going viral on the internet took place at Ngurah Rai International Airport at Bali. Passenger Sets His Own Luggage on Fire After PIA Flight Got Cancelled at Islamabad International Airport (Watch Video).
In the video, a woman can be seen trying to run towards the plane. Two security personnel are seen holding her as she tries to wriggle free. However, the security held her back and didn't let her go.
Watch Video:
Dapet dari IG orang. Kejadian di Denpasar. Ibu ini telat boarding & menerobos boarding gate berusaha mengejar pesawat. Kebayang nggak apa yang terjadi seandainya kedua petugas gagal menghentikan si ibu itu? 🤦🏻‍♂️ pic.twitter.com/WxvmTy55NV

— Mas Goen | IG: @goenrock (@goenrock) November 18, 2018
According to the airport spokesperson, the woman didn't turn up boarding gate at the time and did not even answer to the three calls made to her. However, when 10 minutes were left for the plane to depart, she turned up breaking the security at the boarding gate and reached the runway. According to Coconut Bali, after this strange incident, the woman eventually booked another flight on the same day.