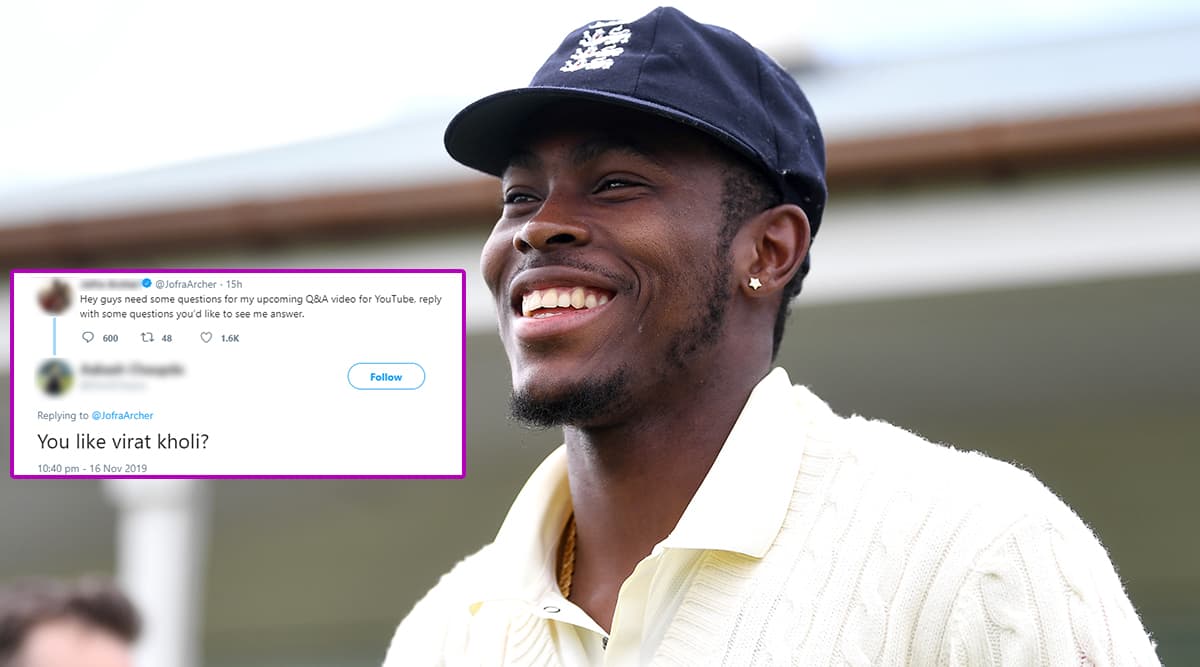 Jofra Archer urged his fans to ask some questions for his upcoming Q&A Youtube video, and netizens responded with hilarious questions. The England pacer is very active on social media. One Twitter user asked him whether he likes Virat Kohli. There were many other hilarious questions on Jofra Archer's tweet, which he shares on Twitter on Saturday. Jofra Archer is all set to play for England in the upcoming Test series against New Zealand. Jofra Archer's Tweet Foretold Virat Kohli's Double Hundred During India vs South Africa 2nd Test? Check Out This Old Tweet!
"Hey guys need some questions for my upcoming Q&A video for YouTube, reply with some questions you'd like to see me answer", Archer wrote on Twitter. Netizens responded with epic replies. Have a look at some of the tweets. Jofra Archer 'Moment' From Ashes 2019 3rd Test Match: Pacer Returns Watermelon-Balloon Back to Crowd, Audience Sings in Praise (Watch Video). 
Hahaha!
You like virat kholi?

— Aakash Chaupda (@SmolChopra) November 17, 2019
Who's Your Crush?
Bollywood crush?

— Bharat chaudhary (@Bharatc73886223) November 16, 2019
Lol!
Do fish ever get thirsty?

— Joe Travetti (@joeytrav) November 16, 2019
Tell Us Jofra!
Who is your favourite Indian cricketer?

— गुRuजी मेमे वाले(7युग से)🇮🇳🌈 (@TweetsOfGuruji) November 16, 2019
Do You Watch Bollywood Movie?
Do you watch Indian bollywood movies? Who is your favourite actor from Bollywood?

— गुRuजी मेमे वाले(7युग से)🇮🇳🌈 (@TweetsOfGuruji) November 16, 2019
Archer is a quite popular personality on Twitter due to his old tweets having a resemblance to current cricket events. Many times his old tweets find sheer coincidence with present events in cricket and netizens have also called him an astrologer. The events started after ICC Cricket World Cup 2019 final, when many of Archer's old tweets found resemblance with few events of the match. One of his tweets also found resemblance with Prithvi Shaw's doping ban and Virat Kohli's double century during India vs South Africa 2nd Test.
Jofra Archer did not play in the recently concluded England vs New Zealand Series 2019. However, he will be playing in the upcoming two Test matches against New Zealand. He is busy with the practice matches at present. England won the five-match T20I series 3-2, which was an absolute nail-biting encounter. The England vs New Zealand, 5th T20I was a series-decider match in which England won in the super over.