The third test match between India and England at Trent Bridge, Nottingham is expected to be quite a must-win game for the guests. Indians lost the first Test match at Edgbaston by 31 runs whereas they suffered a humiliating defeat the Lord's by an inning and 159. However, the first day of the second test match was washed out due to rains. Through the test match, the Rain Gods kept interrupting the play and it wouldn't be wrong to say that it just added to India's miseries. Now, let's see what Nottingham has in-store for the Indians.
As per Accuweather, tomorrow i.e. August 18 will be partly cloudy and sunny, so the fans can enjoy a 90 over game. Whereas the remaining days of the test match could be interrupted due to showers once in a while. The conditions will remain cloudy which could support the pacers. However, on the last day of the match i.e. August 22, the sun could offer his presence over the Trent Bridge Stadium. Check out the snapshot below: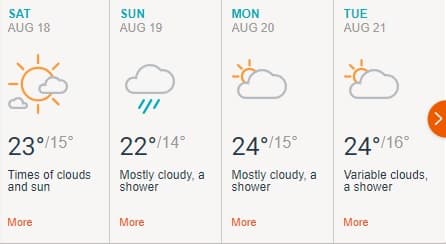 Here's the weather report for August 22, 2018.
Ahead of the 3rd test match, Virat Kohli addressed the press and said, "The only thing we have spoken of us is what the team requires at all times in this Test match. When your back is against the wall, you can't afford to think of anything else," he stated. Virat even went on to say that he is excited to have Jasprit Bumrah back into the squad. "Very excited with Jasprit getting fit again. He is an attacking bowler...he bowls good lines and lengths. He is very consistent in hitting the lengths that are required at the Test level. He has shown that in South Africa already. He is one guy who is very aggressive in his mind and wants to take the situation and make the batsmen uncomfortable in the middle. He relishes the challenge whenever given an opportunity. So we are very excited that he is coming back. He is a quality bowler and it's great to have him on the park," said Kohli.