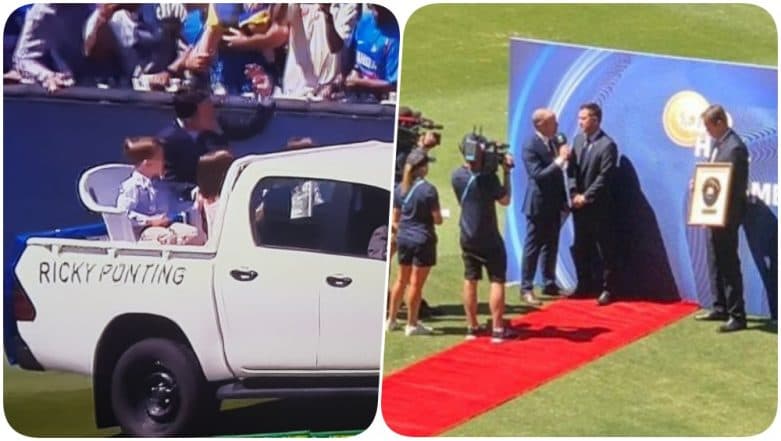 Former Australian captain Ricky Ponting today was inducted into ICC Hall of Fame at the Melbourne Cricket Ground. With this, he became the third player this year to be inducted into the ICC Hall of Fame this year. India's Rahul Dravid and England's Claire Taylor were the ones to be inducted this year. Ponting became the 25th Australian player to be inducted. A total of 87 players have been inducted so far which includes names like Adam Gilchrist, Glenn McGrath, Shane Warne and Steve Waugh. Ricky Ponting on Ball-Tampering: We as Australian Loved to Play game hard.
"I feel deeply honoured to be recognised by the ICC in this way. I loved every moment of my journey as a player and am so very proud of the team and personal achievements along the way," Ponting quoted as saying by Cricket Australia as he was felicitated for the achievement in MCG. The Punter also went on to thank his teammates, coaches and the support staff for playing an integral part of his career. The 44-year-old also thanked his family for backing him constantly.
Ponting hall of fame pic.twitter.com/IqeLiZb0Dg

— Jitender Singh (@j_dhillon6) December 26, 2018
Here is the picture of the honour.
Ricky Ponting Becomes 25th Australian to get Inducted into ICC Hall of Fame The former Australia captain, Ricky Ponting, on Wednesday, got inducted into the ICC Hall of Fame. Ponting, on day one of the Boxing Day Test at the MCG was recognised with the... https://t.co/7xC5oKxnAY pic.twitter.com/UMJ4uX5akF

— HAFEEZ PARDESI (@VOICE_2U) December 26, 2018
Having won as many as three ICC World Cup titles (2 as a captain and 1 as a player), Ponting also famously led the Australian side that completed a clean sweep over England during the 2006-2007 Ashes series.