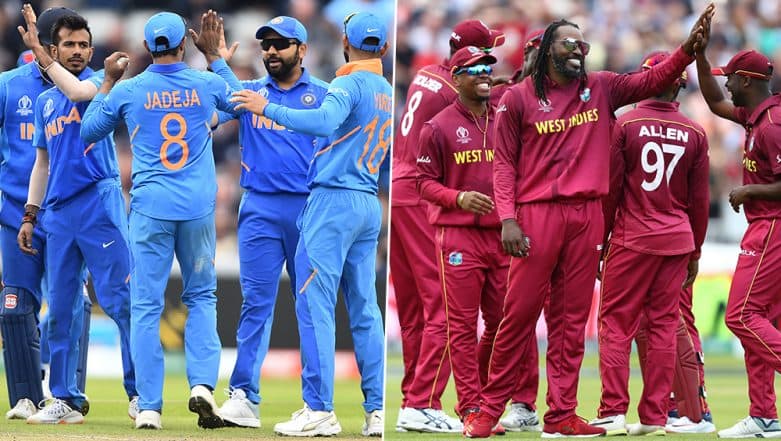 There are no doubts that upcoming India's tour of West Indies 2019 is gaining wide attention among cricket fans and media. India vs West Indies 2019 clash will see India team and West Indies team playing against each other in ODI, T20 and Test series. India's tour of West Indies 2019 will consist of three T20s, three ODIs and two Tests. The squad for the Indian side is going to be announced by selectors on Sunday, July 21,  and the news has created a buzz among Indian fans. India vs West Indies 2019 Series: Fresh Faces Likely As Selectors Pick Squad for Windies Tour on July 19. 
This will be Indian team's first cricket fixture after ICC Cricket World Cup 2019, in which India reached the semi-final and suffered an unlucky loss to New Zealand by 18 runs. As India restart their cricket journey with the West Indies' tour, here we look at three crucial reasons why the selection of Indian squad for India vs West Indies 2019 series is too much hyped in the media and among the cricket fans. Live Cricket Streaming of India A vs West Indies A 2019 Unofficial 4th ODI Match: Watch Free Telecast and Live Score of IND A vs WI A Game on 'Windies Cricket' YouTube. 
MS Dhoni's Future in Cricket
The tour will enable fans to know about MS Dhoni's future in cricket. With Dhoni's retirement news doing the rounds ever since the end of World Cup 2019, cricket fans and enthusiasts are eager to know what are MS Dhoni's future plans in cricket. Moreover, people also want to know what the Indian selectors think about the future of Indian cricket on the matter of wicketkeeper. Are selectors looking for a new player to take over MS Dhoni as primary wicketkeeper? And if yes, who will be that? These two pertinent questions are the main concerns for Dhoni's fans and cricket fans all over the country. MS Dhoni Makes Himself Unavailable for West Indies Tour, to Serve His Regiment. 
Virat Kohli's Future as Indian Skipper
India's ouster from World Cup 2019 also ignited rumours of split captaincy in the Indian cricket. Virat Kohli currently holds the captainship in all the three formats of Tests, ODIs and T20s. However, after India's World Cup 2019 journey, the idea of inducing split captaincy in the Indian team has been doing the rounds. Rohit Sharma is being seen as a possible choice to share the load of captaincy with Kohli. The announcement of India vs West Indies squad will truly clear the uncertainty over the matter. Since India's tour of West Indies 2019 consists of ODIs, Tests and T20s, Rohit Sharma may be given the responsibility of captain along with Virat Kohli, provided, if the idea of split-captaincy is in selectors' mind.
Dinesh Karthik and Kedar Jadhav's Future in National Team
The announcement of Indian squad will also clear the doubts over the future of some senior players in the national team like Dinesh Karthik and Kedar Jadhav. Karthik and Jadhav were selected in World Cup 2019 squad but their performances were not up to the mark in the tournament. While Jadhav could only hit 80 runs in 5 matches he played in CWC 2019, Karthik scored 14 runs in two matches, failing to perform in both the matches he played. As the focus is now on World T20 2020 next year, India's squad for West Indies' tour will give an idea whether both these players will continue to play in the national team, or the selectors have a plan of replacing them.
On most occasions, India vs West Indies series do not create a lot of attention in the media as these clashes are mostly a one-sided affair with India being the powerful side. However this time, these doubts have escalated the weightage of India's tour of West Indies 2019. As and when the squad is announced, these questions will be given fair answers and end the impatience of Indian cricket fans.