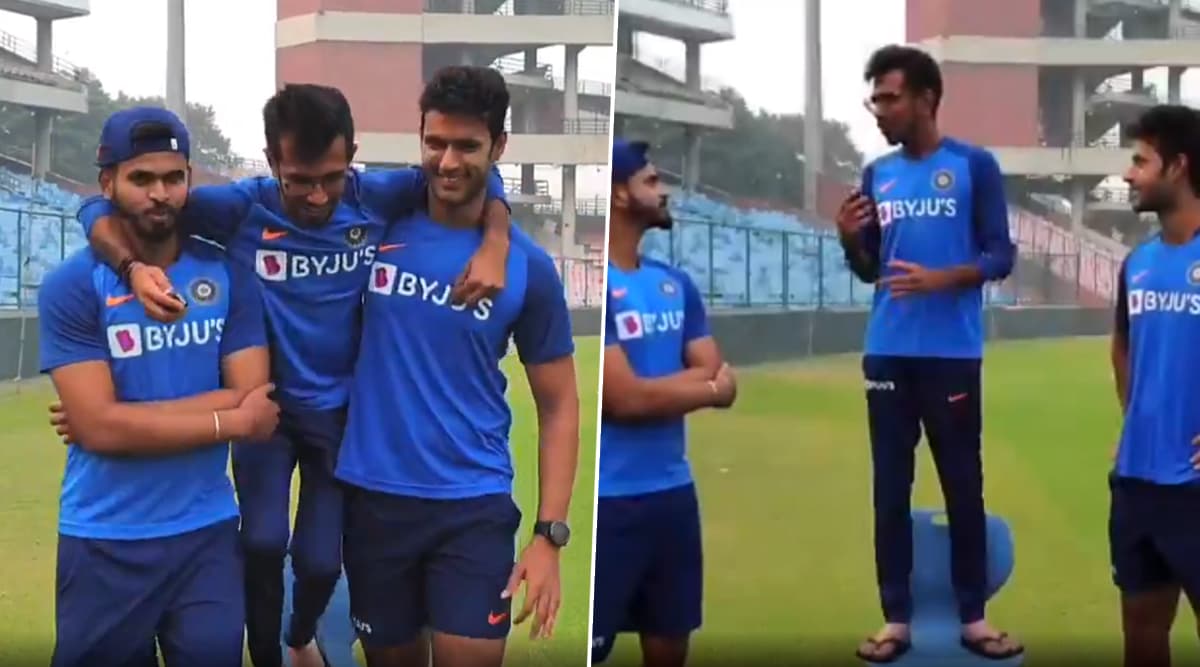 Ahead of India vs Bangladesh 1st T20I at Arun Jaitley Stadium in Delhi, Yuzvendra Chahal came up with another interesting episode of Chahal TV. This time, the Indian spinner interviewed Shreyas Iyer and Shivam Dube. Chahal also congratulated Dube for his debut and asked him how he felt on his maiden T20I call-up. Chahal also called both the batsmen as six-hitters and asked them who among the two hit longer sixes. To this, Iyer replied that it is Dube who hit longer sixes. Team India is set to face Bangladesh in the 1st T20I match on Sunday (November 3) under the captainship of Rohit Sharma. India vs Bangladesh T20I 2019: Rohit Sharma, Sanju Samson & Other Players to Watch Out For During IND vs BAN Series. 
Chahal also stood on a chair while interviewing both the young cricketers as he is quite short compared to their height. While standing on the chair, Chahal also asked Shreyas Iyer what advice did he give to Dube during Ranji Trophy match ahead of IPL 2019 auction. Iyer revealed that he told Dube if he hits sixes in the match he will get a good price at the auction. Dube had smashed five sixes in one over in Ranji Trophy 2018 match, just one day ahead of IPL 2019 auction. In auctions, he was sold to Royal Challengers Bangalore for Rs. 5 crore. Have a look at the Chahal TV video below. India vs Bangladesh 1st T20I 2019: Rohit Sharma vs Mustafizur Rahman, Shikhar Dhawan vs Shafiul Islam & Other Mini Battles to Watch Out for in Delhi.
Chahal TV!
Chahal TV 📺📺returns with Mumbai Boys - Shreyas & Shivam

In this fun segment, @yuzi_chahal speaks with @ShreyasIyer15 on Shivam Dube's maiden T20I call-up and his foray into @IPL - feature by @28anand

Full video ▶️▶️ https://t.co/YUaNHZ5XYB #TeamIndia pic.twitter.com/uCIIz5qKnY

— BCCI (@BCCI) November 2, 2019
All the three are part of India's T20I squad against Bangladesh. The T20I series consists of three matches, post which two-match Test series will commence. Virat Kohli will be back as captain in the Test series. Bangladesh have never defeated India in a T20I or a Test match.