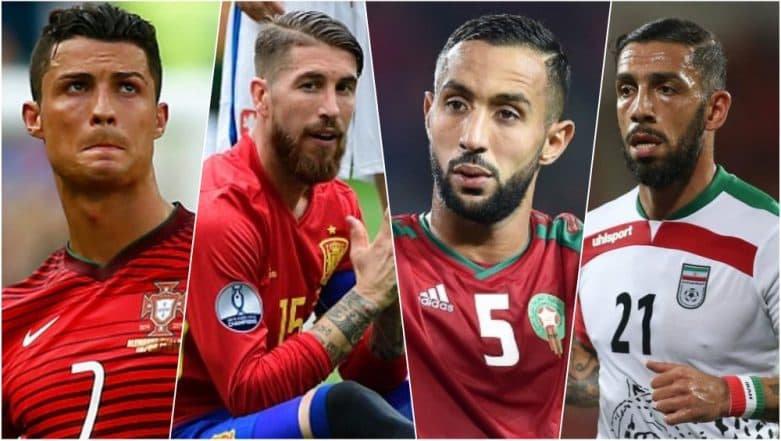 From Group B of 2018 FIFA World Cup Spain and Portugal qualify f or the Round of 16. Both the teams made it to next round despite a draw in their last fixture. Iran held Portugal 1-1 while Spain played a 2-2 draw against Morocco. Spain emerge as the Group B winners and Portugal apparently take second spot. Iran and Morocco are now out of the tournament. Portugal will now take on Uruguay on June 30 and Spain will meet Russia on July 01 in their next round matches.
Spain and Portugal are undoubtedly two of the most glamorous side in world football, and their presence in Group B of 2018n FIFA World Cup means the standard of football will be quite high in this group and that will also have a bearing on the points table. Both are proven winners with Portugal winning the European Championship in 2016 and Spain bagging two European Championships and a World Cup between 2008 and 2012. Morocco and Iran, two like-minded defensively strong teams will set themselves up making itself difficult to beat which can pose a fresh set of challenges to the two nations. With every win, teams will earn three points and an opportunity to lead the team standings of 2018 FIFA World Cup Group B Points Table. 2018 FIFA World Cup Group B Preview: Schedule Timetable With Match Dates, Venues & Kick-Off Times in IST of Portugal, Spain, Morocco, and Iran in Football WC.
Spain ended the 2014 World Cup in an inglorious manner in the group stage and has rebuilt its squad a bit in the past two years. They have been dealt a severe blow with the sacking of Coach Julen Lopetegui after the whole Real Madrid fiasco. Fernando Hierro will manage the La Roja in Russia and hence will need a fresh start in terms of tactics and mindset. They open their campaign against a strong Portugal side in Sochi who have looked good in the warm-up matches. With players like Bernardo Silva and talisman Cristiano Ronaldo coming on the back of trophy winning campaigns, the tie can go either way. Check 2018 FIFA World Cup Schedule in IST for PDF Download: Fixtures, Groups, Time Table with Matches in Indian Time & Venue Details of Football WC in Russia.
Iran is considered Asia's best footballing team and in order to be the best you have to prove it against the best. They will meet quality opposition in Spain, Portugal and Morocco and if they defend like how they did in Brazil four years ago, they can be a tough nut to crack. Morocco has five Netherlands born player in its side and 17 out of the 23 members of the squad were born outside the African nation which is an indication of how their federation has actively poached player of dual nationality to strengthen itself. They will be buzzing as they step on the World Cup field after a gap of 20 years.
2018 FIFA World Cup Group B Points Table
Points Table Updated Till Today's Match.
The Iberian derby between Spain and Portugal will go a long way in sorting out the outcome of Group B and since it being the opening encounter of the group, a win for either if the two will boost its chances of finishing top. It also gives Morocco and Iran the chance to climb up the table ladder albeit for a brief period. Another attractive feature about this group is the presence of several top stars of the Spanish La Liga who play for top clubs like Real Madrid, Atletico Madrid and Barcelona in action.