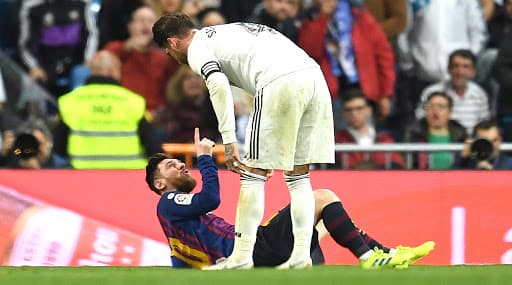 Before the first El Clasico of the season, a video compilation of Sergio Ramos' worst tackle on the Argentine Lionel Messi has gone viral on social media. The match is set to be played on December 18, 2019 (Wednesday) at the Camp Nou stadium in Barcelona. The Real Madrid captain is arguably one of the best defenders of all time but the Spaniard is criticized on many occasions of going too far in search of a victory and that is mainly the case during El Clasico's. Sergio Ramos and Lionel Messi have met each other many times over the course of their careers and the Real Madrid defender has mostly come out of that battle as the second best. Lionel Messi Special, Diego Maradona From Another Planet: Former Argentina Striker Hernan Crespo.
Real Madrid and FC Barcelona are two of the biggest clubs in world football and they are set to lock horns in less than a week's time. The key of winning any match against Barcelona is stopping Lionel Messi, and it's a challenge that Ramos has been well-versed with over the years. Whenever the 33-year-old plays against Messi he only has one thing on his mind, stop Leo by any means necessary. Whether it is lunging with a two-footed challenge or taking unconventional methods to make sure the Barcelona forward doesn't reach the goal. The footage is nearly two-minutes long where Sergio Ramos is just making bad challenges on Messi and bringing him down by any means necessary.
Watch Video
Sergio Ramos side hustle is planning Lionel Messi's death pic.twitter.com/STC4wz6PwJ

— Deji Faremi (@deejayfaremi) December 11, 2019
The Argentine has been in spectacular form this season and is scoring for fun since his return from injury. Ramos knows that if Real Madrid can nullify Messi, Madrid could have more chances of winning the game and go to the top of the La Liga table. Currently, both teams are tied at the top of the domestic league with 34 points.