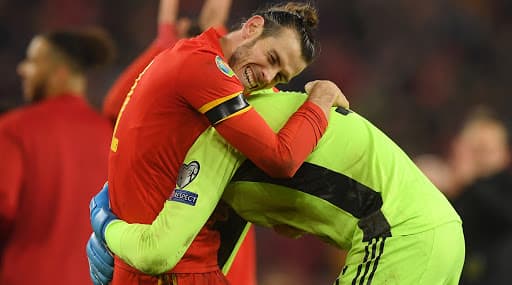 Gareth Bale has taken a jibe at Real Madrid as the forward posed with a controversial flag after Wales confirmed their qualification for Euro 2020. Gareth Bale's career at the Madrid capital has been a roller coaster ride, from reaching the highest of highs in 2014 to falling down to the lowest of lows in recent times. The Welsh player was an integral part of the Carlo Ancelloti side which won 'La Decima' in 2014 but in recent times the player has had a falling out with current Madrid manager Zinedine Zidane and because of it, has been left out of the squad of many occasions. Madrid manager also commented earlier in the season that he does not want Bale in his squad. Tottenham Hotspur Sack Manager Mauricio Pochettino Amid Slump, Jose Mourinho Favourite to Take Over.
Bale helped his country to qualify for Euro 2020 as Wales beat Hungary 2-0, to secure their spot in next year's competition. Wales climbed from the fourth spot to the second position in Group E behind Croatia, leaving Hungary to battle for qualifications in the playoff spot. After the game ended, Bale joined the celebration with his team and was holding a flag, which mocks the La Liga giants with the claim that they are third in the list of his priorities. 'Wales. Golf. Madrid. In That Order' read the flag which the Welshman was holding. The flag was created in parody after former Madrid player Pedja Mijatovic made the exact statement in Spanish radio. The media campaign in Madrid against Bale has been relentless, but he certainly hasn't done himself any favours with his actions. Luis Enrique to Replace Robert Moreno and Return as Coach of Spain.
Here is How Bale celebrated
Nothing but respect for the sheer absence of one single fuck given by Gareth Bale here. 🏴󠁧󠁢󠁷󠁬󠁳󠁿 pic.twitter.com/7ngxIdi1hK

— FootballJOE (@FootballJOE) November 19, 2019
It's still unclear what the reaction of Real Madrid will be after this, but Gareth Bale may not wear a Real Madrid jersey again. The relationship in the past six months between the club and the player has been amongst the strangest ones in modern footballing history. Bale may or may not be a part of Real Madrid's squad for the remaining season but he has a Euro Championship to look forward to next year.