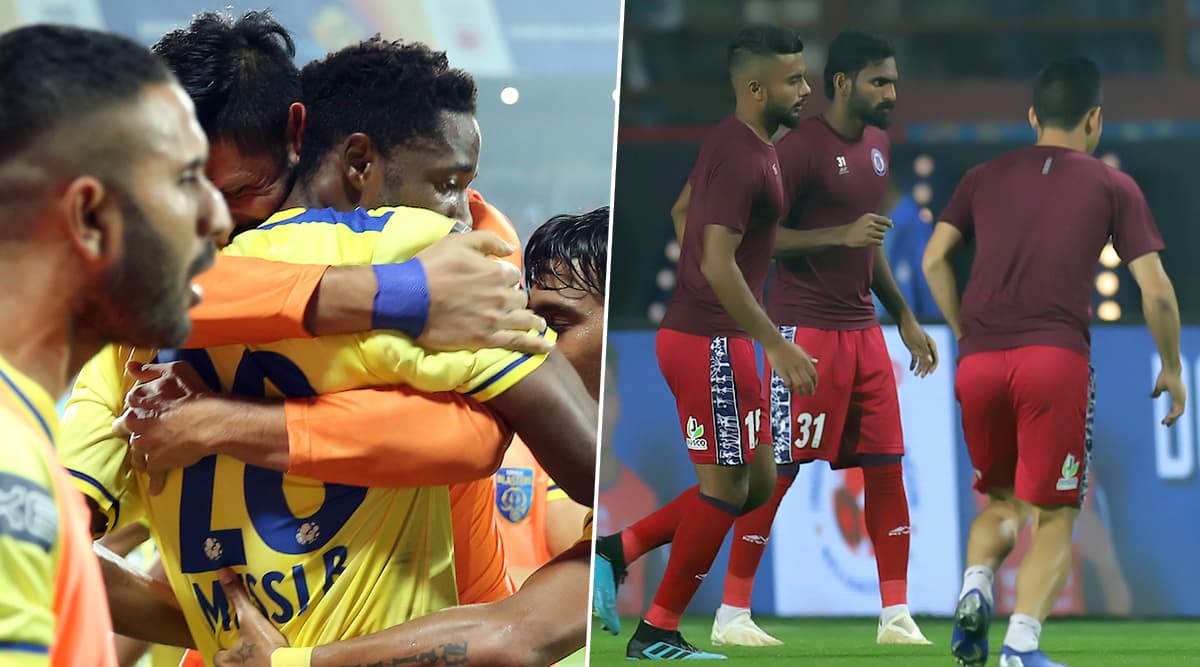 Kerala Blasters will host Jamshedpur FC hoping to record their first win in six matches in Indian Super League 2019-20. Kerala Blasters vs Jamshedpur FC match in ISL 2019-20 will be played at the Jawaharlal Nehru Stadium in Kochi. Both sides have drawn their last two ISL 6 matches and are in search of a first win three matches. Kerala Blasters though are under enormous pressure after six successive winless games of which three have been defeats, the other three draws. Kerala Blasters are also winless against Jamshedpur FC in Indian Super League (ISL) history. Talking of head-to-head records, Kerala Blasters and Jamshedpur FC have met each other in four matches with the latter winning one and the other three ending in draws. Kerala Blasters FC Vs Jamshedpur FC - Live Football Score.
Both Kerala Blasters and Jamshedpur FC will miss their first-choice strikers Bartholomew Ogbeche and Sergio Castel due to injuries. Jamshedpur midfielder Piti is also out with a long-term injury, while Kerala Blasters are missing Sandesh Jhingan to a knee problem. Kerala Blasters began their season with a comeback 2-1 victory over two-time winners ATK but has since then failed to win any of their six matches. Jamshedpur FC started their ISL 6 campaign with successive victories over newbies Odisha FC and Hyderabad but has followed it with three draws, including two on the trot and one win and loss each in their next five matches. KBFC vs JFC Dream11 Prediction in ISL 2019–20: Tips to Pick Best Team for Kerala Blasters FC vs Jamshedpur FC.
Kerala Blasters vs Jamshedpur FC – November 24, 2017 – Match Drawn 0-0
Their only second match in ISL history, Jamshedpur – than debutant in the Indian Super League –held Kerala Blasters to a goalless draw to continue their unbeaten run in the league. Jamshedpur went on to play three consecutive goalless draws before beating the now-defunct Pune City for their first-ever win in ISL. Against Kerala, it was a game of missed chances and wayward shooting. Kerala Blasters, the home team shot 2 on target from 9 attempted while Jamshedpur from 17 shots had 5 on goal in a draw.
Jamshedpur FC vs Kerala Blasters – January 17, 2018 – Jamshedpur Won 2-1
Jerry Mawihmingthanga shot his name into ISL history with a first-minute goal, which then was the fastest ISL goal scored. Latching onto a miscued shot from Asim Biswas, Jerry put Jamshedpur ahead before Asim Biswas doubled the lead in the 31st minute. Mark Sifneos pulled one back in the third minute of extra-time but the game was seconds from being over and it was only a consolation goal. It was Jamshedpur's first win after three winless games in their debut season and they finished the season unbeaten against Kerala.
Jamshedpur FC vs Kerala Blasters – October 29, 2018 – Match Drawn 2-2
Both teams had one win and two draws from their three games before the Jamshedpur FC vs Kerala Blasters meeting. Tim Cahill put Jamshedpur ahead in the 3rd-minute with a powerful header and Michael Soosairaj doubled the lead in the 31st minute but Kerala Blasters mounted a fight-back and scored twice in the final 20 minutes with Slavisa Stojanovic and CK Vineeth scoring in the 71st and 85th minute to pull Kerala Blasters back from jaws of defeat. Their season was, however, pale and this was the third game of a 14-match winless run.
Kerala Blasters vs Jamshedpur FC – December 04, 2018 – Match Drawn 1-1
Both sides met again in the reverse leg after a gap of 5 matches each. Jamshedpur had won and drawn 2 each while losing 1, while Kerala Blasters had lost 3 and drawn the other 2. Kerala Blasters had not won a single match, from their 8 games, since the 2-0 win against ATK in their opening ISL 5 encounter. Carols Calvo scored from the spot to put Jamshedpur ahead in the 66th minute but Seiminlen Doungel levelled the score 10 minutes later and the match ended in a draw. Kerala went winless in their last 9 matches.
The Blasters, under a different coach and a different playing-style, however, find themselves in a similar position in the ISL 6 points table – winless in their last 6 matches. Jamshedpur are fourth with 12 points from 3 wins and draws each and 1 defeat. Kerala Blasters are 8th with 1 win, 3 draws, loss and 6 points.