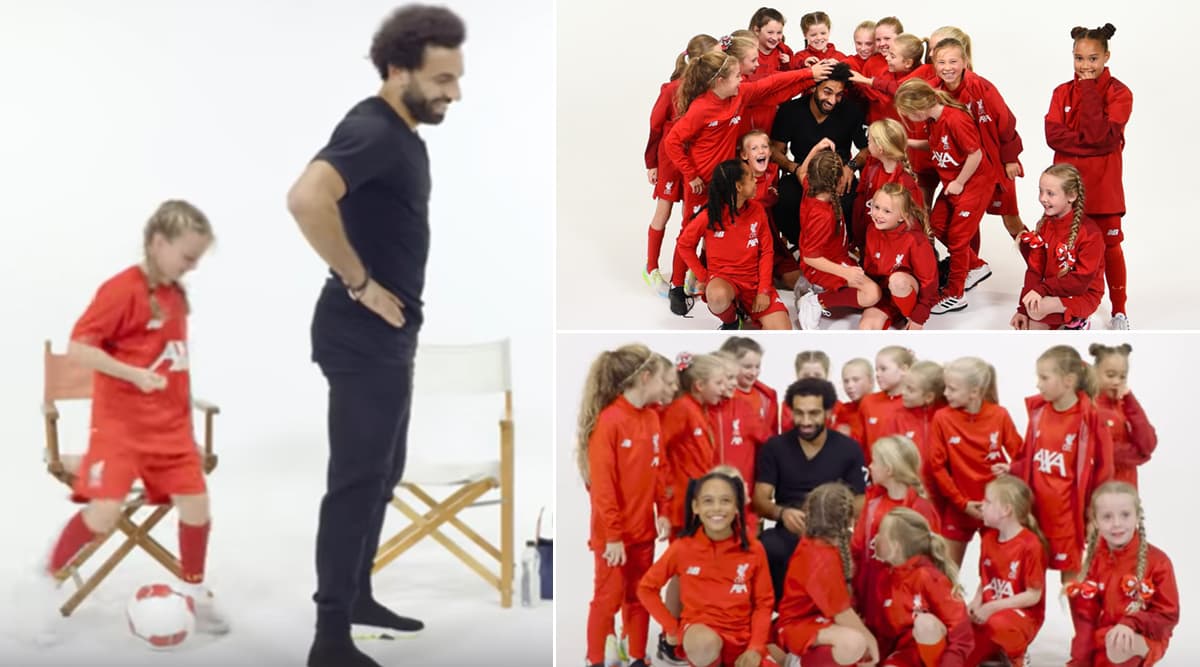 Mo Salah was at his sporting best when he appeared in a fun interview with the Liverpool FC Women Under-9 team. From what is the best thing about being Mohamed Salah to revealing what does his hair look like in the morning, Salah let it all out in this fun interview with the young female brigade of the European champions. He was even nutmegged by one of the young girls during the course of the interview. Salah is currently recuperating from the ankle injury he suffered last month, which further aggravated during the Manchester City clash. He was first hurt in the game against Leicester City but continued playing for Liverpool but has withdrawn from the Egypt squad for their Africa Cup of Nations qualifiers. Mohamed Salah Injury Update: Liverpool Striker Withdraws from Egypt Squad After Aggravating Ankle Problem.
Salah is also taught some English and Scouser words like "scarn" and "jarg" by one of the little girls. When asked how will his mother describe him? Salah answers "as a polite man" before being nutmegged by one of the two little interviewers. He also reveals that he loves cats and have two of them. They are named "Boss" and "Scrub". He is also gifted a coffee cup by the interviewers with the words "Meow Meow Salah" on it. Mo Salah's 'Perfectly Timed' Duck During Goal Celebration With Liverpool Players Jordan Henderson and Andy Robertson.
Mo Salah quizzed by Liverpool women U9s
During the course of the interview, Salah rates his FIFA card, which shows an 86 shoot ratings, 45 defending and 74 physical. Salah also reveals that Croatia centre-back Dejan Lovren is the most annoying club-mate because he talks too much. Salah is also taught "The Mo Salah" move that fans dedicated to him. He reveals that life of Mo Salah is not as fun as it seems. Not having a private life after turning a pro footballer is his worst experience, says the Egyptian King.
Mo Salah Gets Gift Grom Special Interviewers
View this post on Instagram
Meanwhile, on the footballing front, Salah has struggled for form in the ongoing 2019-20 season having scored only nine goals in 17 appearances so far. He scored 44 goals from 52 matches in his debut season at Anfield and followed it up with 27 goals in the previous season. Salah, however, is reportedly out for at least a month after aggravating his ankle injury during the home encounter against Man City.