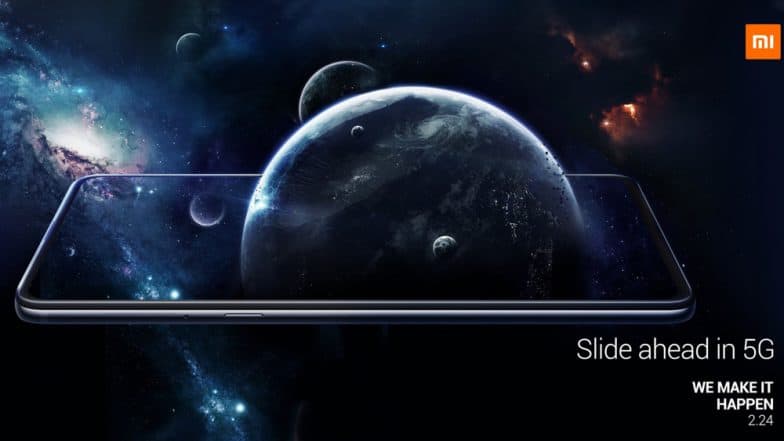 After launching the new Mi 9 & Mi 9 SE in China, Xiaomi officially announced that it will be hosting its own event at Mobile World Congress 2019 for the first time ever. Well, that's because the Chinese smartphone manufacturer sell its products in the European market as well. Xiaomi's event at MWC 2019 is scheduled to happen for February 24, 2019 and interestingly is the same day when other smartphone makers like Nokia and Huawei will be launching their respective products. Making its debut at MWC 2019, the phone maker will be looking to make grand entry with not just one product. We can expect Beijing-based phone maker to unveil multiple products at the event. Huawei Mate X Foldable 5G Smartphone Poster Leaked Ahead of Launch at MWC 2019.
The company is expected to unveil its dual folding foldable smartphone at the event tomorrow along with several other products such as 5G phone, Mi 9, Mi 9 SE, Mi 9 special edition, and much more. Recently, the smartphone manufacturer revealed on its official Facebook that it will be launching its 5G smartphone at MWC 2019 in Barcelona. The company will also be broadcasting the launch event on its social media accounts & YouTube channel. MWC 2019 Will Be All About Flagship, Foldable & 5G Smartphones; Huawei Will Launch First Foldable 5G Smartphone.
The post read - "Leap into the #5G world, leap into the future. #MakeItHappen with #Xiaomi! Don't miss the livestream of our launch in Barcelona on Feb. 24th. See you at #MWC19."
There has been multiple reports in the market claiming that Xiaomi is working on a foldable smartphone, which be launched this year. However, the timeline for the same is not known as of now. And, the same could be revealed tomorrow in Barcelona. Apple Might Launch First Foldable iPhone in 2020; Patents For Foldable Smartphone Submitted.
In the past, we also saw a video surfaced on the internet wherein a Xiaomi executive using the unfinished foldable phone featuring a dual folding mechanism. As Samsung has already revealed its foldable smartphone - Galaxy Fold, it is now speculated that Xiaomi too will be revealing its dual folding phone at MWC 2019 event.