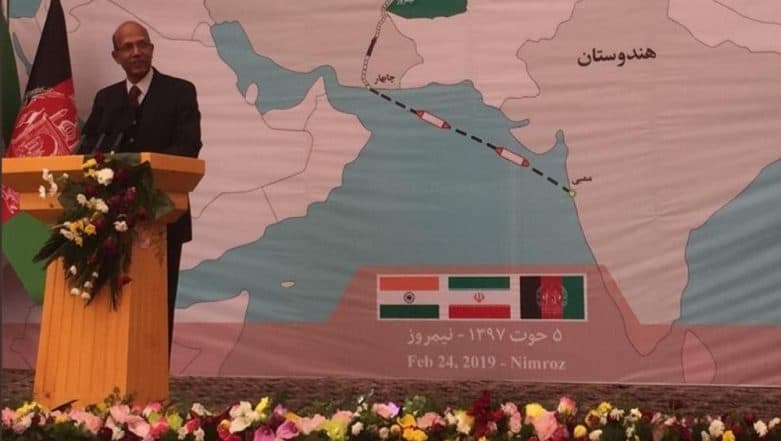 Toronto, February 25: In a major milestone for Afghanistan, the country sent its first overseas export to India via the Chabahar port in Iran. 23 trucks carrying 57 tonnes of dried fruits, textiles, carpets and talc stone were transported from the Afghan city of Zaranj in Nimroz province to Iran's Chabahar port to be shipped to Mumbai.
The opening up of Chabahar to Afghan goods comes after India was handed the operations of the Iranian port for a period of 18 months to help develop its infrastructure. India has developed the Chabahar port along with Iran.
The transport of the first consignment of goods marks the inauguration of the India-Iran-Afghanistan trade corridor that allows Afghanistan access to a sea port despite its land-locked geographic location. This route allows Afghanistan and India to engage in trade bypassing Pakistan.  Access to Chabahar port also allows the Afghanistan government to develop infrastructure to place itself as a transit point for goods travelling to Central Asia from Iran.
Ambassador @vkumar1969 today spoke at the inauguration ceremony for the first shipment of Afghan goods to India via the Chabahar port in Iran.Ambassador @vkumar1969 highlighted the importance of Chabahar for regional integration and strengthening of the Afghan economy. pic.twitter.com/GqjaX9EofL

— India in Afghanistan (@IndianEmbKabul) February 24, 2019
The event was attended by Afghan President Ashraf Ghani, along with Iranian Ambassador to Kabul Mohammadreza Bahrami and Indian Ambassador to Afghanistan Vinay Kumar. At the ceremony, President Ghani expressed appreciation for Iran and India's joint efforts which have led to the opening up of this important trade corridor in the region. "Chabahar Port is the result of healthy cooperation between India, Iran, and Afghanistan. This will ensure enhanced connectivity and economic growth for all the countries." he said.
Afghanistan has a trade surplus with India which stands at $740 million in 2018. The two countries have established an air freight route as well. Indian envoy Vinay Kumar spoke of the development as "a landmark event to provide access for the Afghan exporters to the large Indian market to build on the success of air corridor which has already helped increase Afghan exports to India by more than forty per cent."
The US government has granted an exception to India under its Iran sanctions that allowed the development of Chabahar port to help boost Afghanistan's economy.