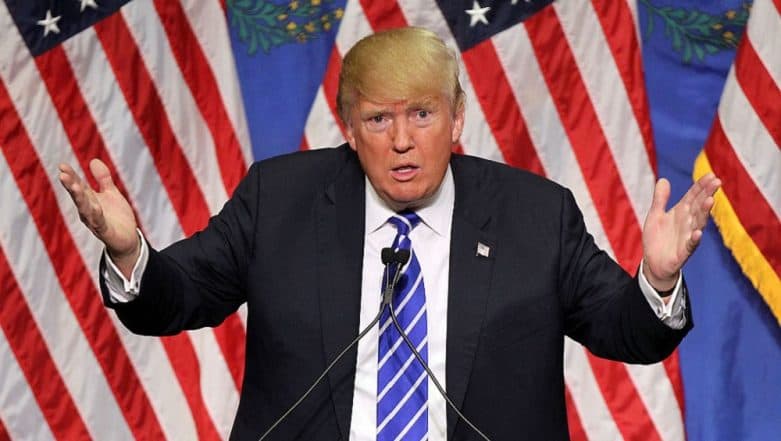 Washington, February 25: Former Donald Trump campaign staffer Alva Johnson has filed a lawsuit before the court of Florida, alleging that she was kissed without consent by the then Republican presidential hopeful after addressing a rally in Tampa in 2016. Her petition prompted the White House to issue a prompt statement of denial.
White House Press Secretary Sarah Sanders said the lawsuit  is politically motivated, and is based upon false allegations to malign Trump's image. "This never happened and is directly contradicted by multiple highly credible eye witness accounts," said the statement issued by her. Porn Star Stormy Daniels Must Pay Donald Trump USD 3,40,000 in Legal Fees: Lawyers.
According to Alva, a 43-year-old mother of four, the alleged incident occurred after Trump was interacting with his campaign staffers after the rally.
As per her claims, Trump attempted to kiss her lips, but since she turned her face, he ended up kissing close to her mouth. It was "super-creepy and inappropriate", she said.
"I immediately felt violated because I wasn't expecting it or wanting it...I can still see his lips coming straight for my face," Alva told the Washington Post.
Alva's charges have, however, been contradicted by two Trump supporters who were reportedly present at the interaction following the Tampa rally. The witnesses - a campaign official and Florida attorney general Pam Bondi - denied seeing the alleged kiss.
The US President has faced charges of sexual advances in the past as well, with numerous women taking it to the social media to level their allegations ahead of the 2016 presidential elections.