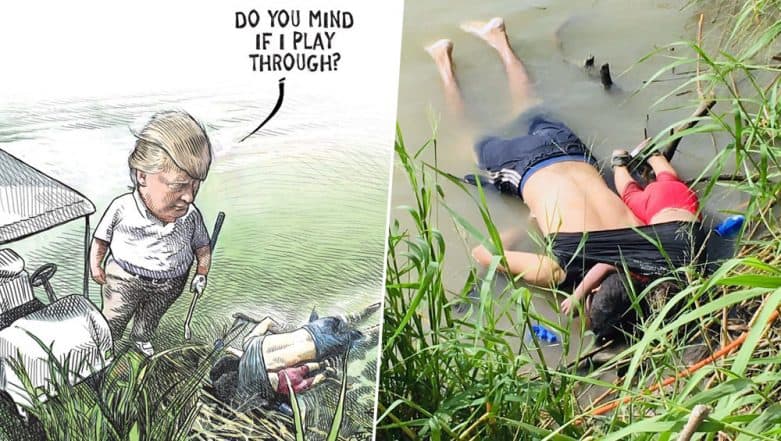 A Canadian cartoonist who made an anti-Trump illustration has ended up losing his job. Michael de Adder made a newspaper cartoon on border crisis based on the viral picture of a Salvadoran migrant father Oscar Alberto Martinez and his daughter drowning in Rio Grande river a few days ago. In his illustration, he showed Donald Trump ignoring the immigration issue, ready to play a game of golf. The cartoon illustrated Trump standing near the dead migrant bodies and the text read, "Do you mind if I play through?" The illustration was shared widely on Twitter and Facebook and two days later, Adder shared on his Twitter that his freelance contract was retracted with Canada's Brunswick News company.
The shocking image of Oscar Alberto Martinez and his 23-month-old daughter Angie Valeria, losing their life while crossing through the Rio Grande River to get into the US once again brought the problems of migrants into a highlight. The image went viral last week.  Michael de Adder made a topical cartoon on the issue and it backfired. But as the talks of his contract being revoked raised eyebrows, the Brunswick News gave a statement that the Anti-Trump cartoon had nothing to do with it. Heartbreaking Pic of Father and Daughter Drowned in Water Near US-Mexico Border Reminds Us of The Crying Immigrant Girl During Trump's Zero Tolerance Policy.
Check Cartoonist Adder's Comic on Donald Trump:
Cartoon for June 26, 2019 on #trump #BorderCrisis #BORDER #TrumpCamps #TrumpConcentrationCamps pic.twitter.com/Gui8DHsebl

— Michael de Adder (@deAdder) June 26, 2019
Here's His Tweet of Losing the Contract:
My cartoons will no longer appear in @TimesTranscript @DailyGleaner @TJProvincial @TJGreaterSJ

— Michael de Adder (@deAdder) June 28, 2019
People appreciated this cartoon on all platforms and when the news of him getting fired came up, angry reactions started coming in. Some called it a Pulitzer Prize-worthy illustration and called it the company's loss! As per The Washington Post,  Canada's Brunswick News company released a statement saying "It is entirely incorrect to suggest Brunswick News Inc. cancelled its freelance contract with Michael de Adder due to a cartoon depicting Donald Trump." They also called it a "false narrative that emerged carelessly and recklessly on social media." Meanwhile, Wes Tyrell, President of the Association of Canadian Cartoonists, a professional group for artists told CNN that Brunswick News company avoided Trump as a subject. In fact, he added that de Adder had made a reputation as a guy who took on Trump.