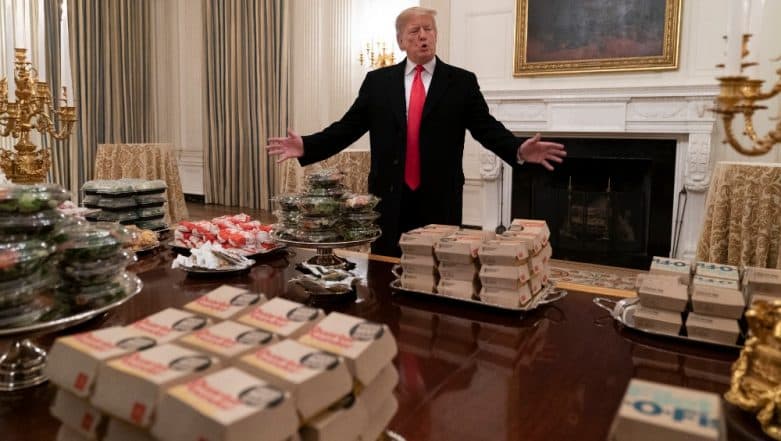 United States Donald Trump arranged a 'fast food' feast for Clemson Tigers, winners of the national college football championship at the White House on Monday. He also said that he paid for the burger and fries himself due to the partial government shutdown, the longest in US history. Well, he did not reveal how much the food cost. He also told the players afterwards that he did not want to postpone the event until after the shutdown ended.
The White House couldn't arrange a healthy meal for the players as the oval house chefs are off duty because of the shutdown. Hence, Trump bought burgers and fries from McDonald's and Wend's terming it "great American food." The college football champions have visited the White House in 2017 also. US: Government Shutdown Leaves 8,00,000 Federal Employees Without Salaries.
He said, "I like it all. It's all good stuff, great American food. And it's going to be very interesting to see at the end of this evening how many are left. We ordered American fast food. Paid for by me. Lots of hamburgers, lots of pizza, I think they'd like it better than anything we could give." Meanwhile, Twitterati couldn't believe that the White House actually served fast food to athletes. Many took to social media questioning the President's buffet choice for Clemson Tigers. Donald Trump Walks out of Meeting to End US Government Shutdown.
White House Press Secretary Sarah Sanders said, "The President wanted to host a fun event to celebrate the College Football National Champion Clemson Tigers. Because the Democrats refuse to negotiate on border security, much of the residence staff at the White House is furloughed – so the President is personally paying for the event to be catered with some of everyone's favourite fast foods."
Watch the video below:
The partial government shutdown in the United States has resulted in the absence of 8,00,000 federal government workers. The shutdown is caused following Trump's campaign to build a wall on the southern border with Mexico. He is refusing to approve a budget unless it includes USD 5.7 billion from Congress for the project. With the shutdown entering the 24th day, it has paralysed some of the key departments, including the State Department and not to miss the White House kitchen.