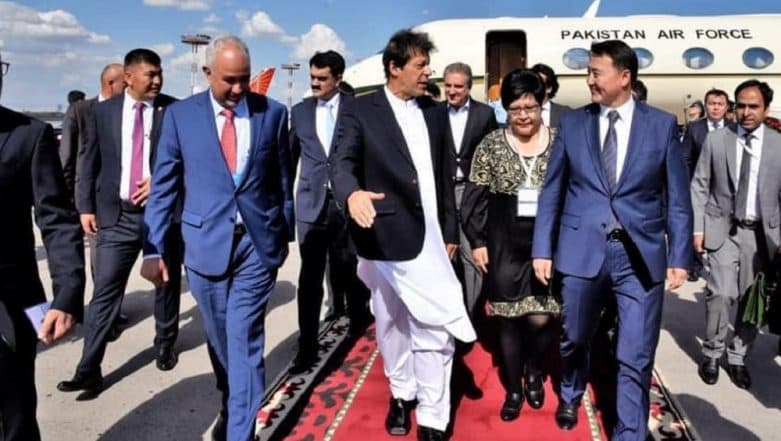 Bishkek, June 13: Pakistan Prime Minister Imran Khan, who arrived at the Kyrgyz capital to attend the Shanghai Cooperation Organisation (SCO) summit, has put the onus on India for suspension of dialogue between the two neighbouring nations. Modi, Jinping Meet on Sidelines of SCO Summit, 'Brief Discussion on Pakistan'.
Speaking to Russia's state-run Sputnik news agency, Khan said he had attempted to initiate a peace dialogue with India even before the general elections in April-May. He retracted the move, however, after noticing the anti-Pakistan narrative being pushed by Modi's Bharatiya Janata Party (BJP).
"We actually tried before the elections, but unfortunately we felt that before the elections, Prime Minister Modi's party was building up this hysteria, unfortunately, anti-Pakistan feeling among its people, appealing to its right-wing Hindu nationalists, and so there was no chance of peace before the elections," Khan told the official Russian news agency.
Details of PM Modi's Schedule of Bishkek Visit
Relations between India and Pakistan soured following the terror attack in Pulwama on February 14, in which personnel of the Central Reserve Police Force (CRPF) were killed.
Subsequently, India launched air raids in Pakistan-occupied-Kashmir's Balakot, where the largest Jaish-e-Mohammed camp was reportedly destroyed.
Khan said he attempted to discuss the alleged involvement of Pakistani elements in the Pulwama attack with the Indian counterparts, but "did not receive a response".
On being asked whether Pakistan would welcome Russia's role as a mediator to resolve the Kashmir dispute, Khan said his government would accept any kind of mediation, which is aimed at establishing long-lasting peace.
"Pakistan is looking for any kind of mediation because Pakistan believes that progress comes with peace," he said.
The position is in stark contradiction as the one adopted by India. The latter has ruled out the involvement of any third party in the discussion of Kashmir territorial dispute, calling it a "purely bilateral issue".