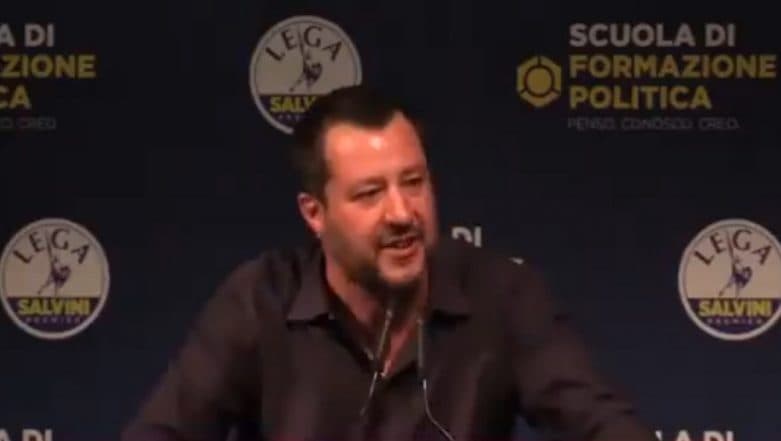 Toronto, March 20: Italy's Interior Minister Matteo Salvini has barred rescued asylum seekers from being brought on to Italy's shores in a bid to prevent humanitarian agencies from rescuing them when they come across them on the high seas.
Salvini has issued a ban after rescuers from the Italian rescue group Mediterranea Saving Humans pulled asylum seekers off a sinking boat near Libya on Monday and brought them to the Italian island of Lampedusa to be brought on shore. But Salvini refused to grant permission for the asylum seekers to disembark on the island, "Our ports have been and remain CLOSED."
Soon after Salvini's tweet, Italy's Interior Ministry said ships conducting rescue operations in the Mediterranean Sea, that are not Italian and do not coordinate with Rome, would not be allowed to use Italy as a port of safety. The directive was issued just hours after 49 people were rescued off the coast of Libya, under the nose of the Libyan coast guard, before requesting permission to disembark the migrants in Italy.
Soon after this order was made public, Salvini tweeted again saying that Italy will not give in to "blackmail" by social groups who are "accomplices to human traffickers." The migrants "can be cured, fed, clothed, given all kinds of comfort goods but, as far as I'm concerned, with my permission, they won't set foot in Italy," Salvini told SkyTG24 news channel on Tuesday.
The Italian minister added, "Any infringement of international maritime or Italian law "can be read as a premeditated action to bring illegal immigrants to Italy and facilitate human trafficking".
Salvini's party won the second largest majority in Italy's elections on the promise to curb the flow of asylum seekers landing on Italy's shores. The Italian government has also put a halt on allowing rescue ships into its ports as it has accused the other European Union countries of not sharing the load when it comes to granting shelter to asylum seekers.