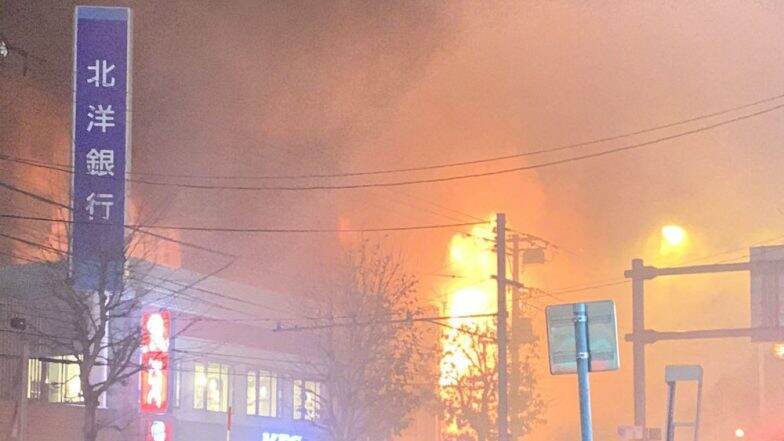 Tokyo, December 16: Over 40 people have sustained injuries in an explosion that took place at a restaurant in northern Japan, confirmed media reports.
The blast reportedly occurred in the city of Sapporo. The exact cause of the explosion is unknown, but people have been tweeting about the incident and various reasons are doing rounds.
"Izakaya near the intersection of Hiragishi subway station seems to have exploded. The store was crushed. Now that the flame is rising, so that there is a risk of explosion and not approaching," said a tweet. Check the tweet below:
地下鉄平岸駅の交差点付近の居酒屋が爆発したみたい。店が潰れてた。今は炎が上がってて、さらに爆発の恐れありで近づかないようにと。 pic.twitter.com/6AO2TjUIDU

— 寿 (@kot0buk1) December 16, 2018
Another picture of the smoke that has been largely controlled, said this tweet below:
だいぶ消えてきました。

迅速な対応。日本人すごい pic.twitter.com/VGLhKEgqPG

— 紫しょうが@1209横アリ❤ (@shoogaxxx) December 16, 2018
However, injuries were reported and people were taken to hospital, as this tweet showed below:
札幌の豊平区平岸駅前の飲食店でガス爆発か?

けが人複数いる模様( •́ω•̀ ) pic.twitter.com/V4Z23UbJbN

— わし@猫もふ不足 (@washihoshi) December 16, 2018
The explosion took place in the area near to a metro station which is about 50 meters away from the place of explosion. The area hosts many popular shops, eateries, bars, and cultural places.