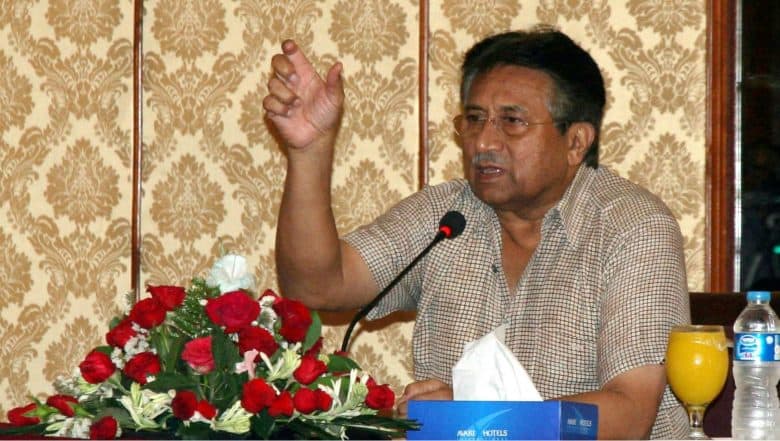 Islamabad, May 2: A special court accepted former Pakistan President Pervez Musharraf's request on Thursday to postpone the hearing of a treason trial against him until after the month of Ramzan owing to his poor health. Pervez Musharraf Pleads For Postponement of Treason Trial.
A three-member bench headed by Justice Tahira Safdar adjourned the case hearing till June 12 after the former military dictator's counsel Salman Safdar told the court that his client could not travel to Pakistan to attend the hearing due to his medical condition, Geo News reported.
The counsel, in an application on behalf of Musharraf, stated that despite "strong willingness and eagerness to return to Pakistan, life-threatening ailments and medical complications had forced him not to appear before the special court".
"He is ashamed and apologetic for not being able to reach (in time). He is unable to walk," the counsel said, adding that he had spent three days with Musharraf and was "shocked to see that he could barely even speak".
"The doctors have said it is not safe for him to travel in this condition," the counsel said. He then asked the court to postpone the hearing until after Ramzan. The court also issued a notice to the government over a plea for acquittal of Musharraf in the case.
The Pakistan Muslim League-Nawaz (PML-N) government had filed the treason case against Musharraf over the President's imposition of extra-constitutional emergency in November 2007.
In line with the Supreme Court's directive, the trial court is scheduled to record Musharraf's statement under Section 342 of the Criminal Procedure Code to complete the treason trial.
Musharraf left for Dubai in 2016 to "seek medical treatment" and has not returned since. Earlier in March, he was admitted to a hospital in Dubai after suffering a reaction from a rare disease for which he is already under treatment. Pervez Musharraf Unlikely to Return to Pakistan on May 1.
The application stated that Musharraf is suffering from cardiac amyloidosis (congestive heart failure), chronic kidney disease (high creatinine in renal system), excessive somnolence (hypersomnia), spinal injury and fracture.
It also recalled that the former President came to Pakistan on March 24, 2013, on his own to face the Benazir Bhutto assassination case, judges' detention case and Akbar Bugti case and that the high treason case was initiated subsequent to his arrival in the country, Dawn online reported.