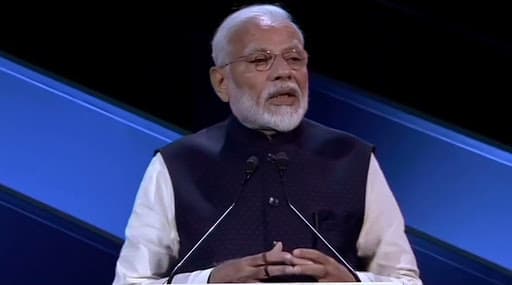 Riyadh, October 29: Prime Minister Narendra Modi on Tuesday invited Saudi companies to invest in India's energy space stating that the Union government had set a target of USD 100 billion investment for the sector. He announced the annual Future Investment Initiative (FII) in Riyadh, which is considered to 'Davos in the desert'. Saudi Arabia: PM Narendra Modi Meets King of Jordan Abdullah II in Riyadh, Discusses Ways to Strengthen Ties.
Addressing the international forum on Tuesday, PM Modi assured the global community that every step is being taken by his government to boost up the economy. He said, "I want to ensure you that India's rate of growth is going to rise further. We are taking steps for the growth of our economy. We are improving on our ease of doing business ranking. Due to political stability, predictable policy, and big diverse market, your investment in India will be most profitable."
Elaborating about the government's plans, the Indian Premier said that an investment of USD 1.5 trillion would be made in the infrastructure sector alone in the next five years. However, he expected that for this workforce and talent mobility should be included in the international agreements.
Recalling the achievement of India in recent years, PM Modi stated the country's ranking has improved in the World Bank's Ease of Doing Business, Logistic Performance Index and Innovation Index. Apart from this, he noted about India's tax structure and Intellectual Property Rights (IPR) regime, which is considered best in the world. He also mentioned that Saudi national oil company Aramco had decided to invest in West Coast refinery project in Maharashtra, which is estimated to refine the 60 million tonnes of oil a year. This would be Asia's biggest refinery. PM Narendra Modi in Saudi Arabia: Looking Forward to Aramco's Participation in India Strategic Petroleum Reserve.
Following the address, the Prime Minister met Crown Prince of Saudi Arabia, Mohd bin Salman bin Abdulaziz Al Saud today in Riyadh. Earlier, he met King Abdullah II of Jordan and the two world leaders discussed trade and investment and counter-terrorism.