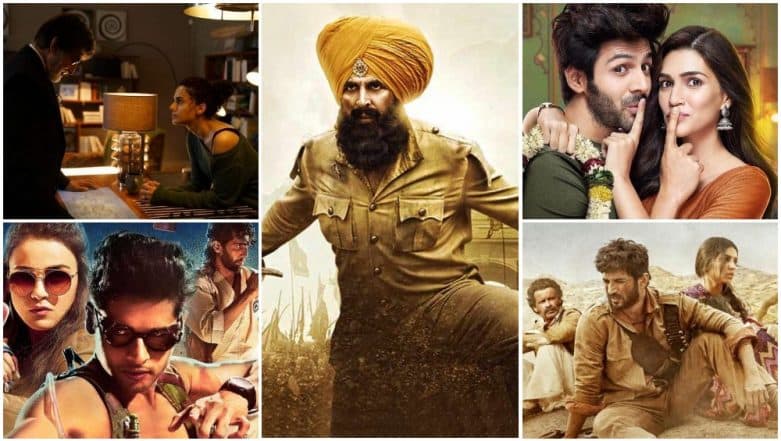 March 2019 has been a strange month for Bollywood. There have been quite a few releases in this period and some of them have been really good ones. And yet, it is the weaker films that went on to score at the box office, proving once again that not content, but flashier marketing and bigger stars and exposure is what makes a movie attractive to the crowds. Not to mention, nationalism. March 2019 turns out to be one of those months that once again showed the wide disparity between the critics and the mainstream audiences. Kesari Box Office Collection Day 9: Akshay Kumar Starrer Performs Better Than the New Releases, Rakes in Rs 110.31 Crore.
There have been some big releases this month like Akshay Kumar's Kesari, Karthik Aaryan and Kriti Sanon's Luka Chuppi, Amitabh Bachchan and Taapsee Pannu's Badla. However, when it comes to content, it is indie flicks that scored more. In this special feature, we look at all the main releases of the month and ranked them from Worst to the Best, purely on how they impressed us as a viewer.
Junglee
An extremely passable action thriller set in the jungle, that doesn't even fully utilise the martial skill abilities of its leading man, Vidyut Jammwal. Junglee makes us wonder why the makers even bothered to bring in Hollywood film-maker Chuck Russell when anyone here could have made a mess of what the final product was.
Luka Chuppi
Okay, thanks to Kartik Aaryan's Sonu Ke Titu Ki Sweety-found fame and the audience's love for small-town romcoms, Luka Chuppi was a hit at the box office. But the movie squanders quite an interesting premise with some meandering execution and writing. The leads are alright, and there are a couple of funny scenes, but nothing more than that. Even the talented Pankaj Tripathi is wasted.
Milan Talkies
The first half of Tigmanshi Dhulia's tribute to DDLJ and Bollywood, in general, is quite delightful, I must say. The actors are all great and the energy is high in these portions. Post-interval, things take a spectacular dive more because the writing becomes unfocused and the tone all over the place. And yet, the movie is not as bad as it is made out to be.
Kesari
Thanks to Akshay Kumar's star power and Karan Johar's marketability, Kesari went on to make Rs 100 crore at the box office. However, the retelling of The Battle of Saragarhi suffers from bad editing, overstretched sequences and over-infusion of melodrama. Not to mention, bad CGI. Akshay Kumar is fine in the lead role, and the action sequences are decently done. But there was potential to create a masterpiece here and what we got instead, was a merely decent war flick.
Notebook
Since Chillar Party, Salman Khan Films have not been able to deliver a decent film to date. Notebook kind of changes that. Set in the lovely locales of Kashmir, Notebook is beautifully photographed and is a pleasant watch. Zaheer Iqbal and Pranutan Bahl are two of the best newcomers launched by Salman Khan. The writing in the second half is haywire, and some subplots are needlessly added. And yet, Notebook won't make you cringe or get bored.
Badla
An official remake of the Spanish film The Invisible Guest, Badla is a nearly faithful adaptation of the original movie, albeit with a gender reversal. Amitabh Bachchan and Tapsee Pannu are both excellent here, with strong supporting turns from Amrita Singh and Tony Luke. What also works here is when director Sujoy Ghosh drew frequent parallels of the premise with that of the Mahabharat.
Hamid
Aijaz Khan's Hamid is a brilliantly enacted tale of the life of people in Kashmir who are caught between the crossfire of the militants and the Indian army. There are some excellent performances from Rasika Duggal, Vikas Kumar and a young Talha Arshad Reshi. Hamid is definitely an eye-opener for those don't live in the valley and yet think they have figured out the priorities of the people living there.
Mere Pyare Prime Minister
After the disastrous Mirzya, it is a return to form for director Rakeysh Omprakash Mehra with this social drama. Unlike what the name suggests, MPPM is not a propaganda vehicle for the current regime. While it shares a common theme with Akshay Kumar's Toilet - Ek Prem Katha, MPPM is more hard-hitting and has a better focus with a better selection of cast. The kids are all natural, while Anjali Patil is terrific.
Photograph
There are some movies that get better with each watch and Photograph is one such movie. Ritesh Batra's new film, starring Nawazuddin Siddiqui and Sanya Malhotra as an oddly matched couple, is an unusual tribute to the city of Mumbai, as well as the charm of Bollywood's boy-meets-girl romances. It lacks the trappings of commercial cinema, and often comes out abstract at times. But it is beautifully shot, splendidly written and will make you crave for Campa Cola by the end.
Sonchiriya
It is a pity that Sonchiriya performed so badly at the box office, but you need to blame the lazy marketing for that. For Abhishek Chaubey's new film is tautly directed dacoit drama, that makes a fine balance between the gritty action, character development and life musings. The entire cast is excellent, with Sushant Singh Rajput and Bhumi Pednekar delivering career-best performances and Ranvir Shorey once again stealing the show.
Mard Ko Dard Nahi Hota
The movie that impressed Toronto International Film Festival last year is now in India. Vasan Bala's weird vigilante film is a brilliant homage to the quirkiness of Indian masala films and a movie so meta that even Deadpool might find a hard time to beat it (Bloody Disgusting agrees with me on this). Abhimanyu Dassani is a talent to watch out for, Radhika Madan proves once again that she is better than many of highly publicised star kids, and there is Gulshan Devaiah who brings manic energy in a double role. Just too good!
Please note that we couldn't get to review The Least of These, Ram Ki Janmbhoomi hence couldn't include them in the above ranking. My apologies! So do you agree with our ranking? Share your thoughts in the comments section below.
(The opinions expressed in the above article are of the author and do not reflect the stand or position of LatestLY.)