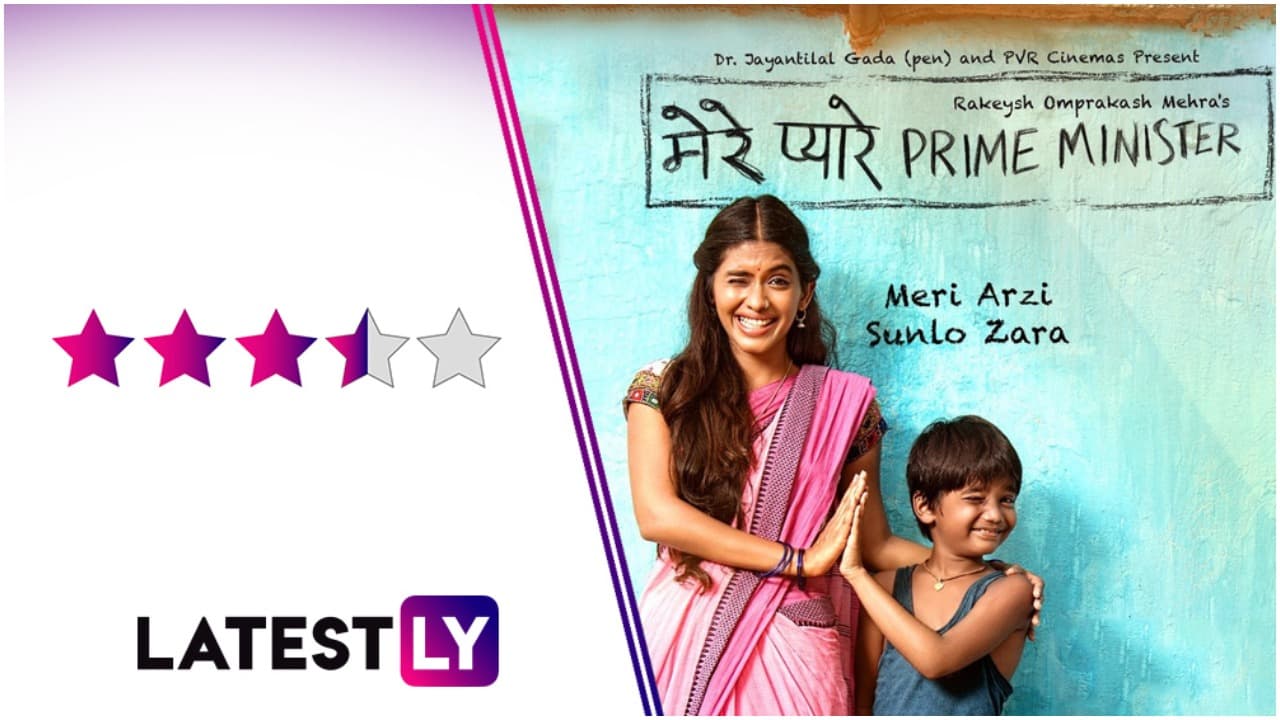 Mere Pyare Prime Minister revolves around Kanu, a mischievous boy who lives in the slums of Gandhi Nagar, Mumbai. He stays in a shanty with his young mother Sargam (Anjali Patil), who dotes on him. Like with most of the slums in the city, there are no toilet facilities in Gandhi Nagar too and open defecation has become a part of the lives of people living there. However, the inhabitants of the place get a rude awakening when Sargam is raped by a policeman while returning after relieving herself. While a depressed Sargam slowly gets on with her daily life, her son is determined to make a toilet for her so that she never gets hurt again. Even if that means writing a letter to the Prime Minister and going to Delhi to deliver it.
I really cannot discuss Rakeysh Omprakash Mehra's new film, without some very obvious comparisons to Akshay Kumar's Toilet - Ek Prem Katha. Both films deal with the issue of open defecation and the safety of women around the practice. And both the films address the issues through the loving bond of two individuals, and how the male goes to lengths to make answering nature's call safe for the lady. Ranveer Singh to Star in Rakeysh Omprakash Mehra's Next?
So which is the better film? Akshay Kumar's film may have worked well commercially. But when it comes to creating an impactful narrative without making it sound like propaganda (at least, not in the face), then I would go with Mere Pyare Prime Minister.
Toilet - Ek Prem Katha pushes the blame towards the villagers for not having toilets in their houses in the name of tradition. In Mere Pyare Prime Minister, the slum-dwellers don't have much of a choice of having the luxury of a private toilet. The movie makes you realise that what you think is a necessity at your home could be a privilege. This is beautifully pointed out in a scene where Kanu compares the hundreds of inhabitants living in tall buildings near them having one toilet at least when the lakhs of people in their slums have none. Mere Pyare Prime Minister Trailer: Rakeysh Omprakash Mehra Raises Concerns About Open Defecation and Sanitation Problems Through the Film - Watch Video.
Mere Pyare Prime Minister has a clear focus. It doesn't really waste any time in unwanted distractions, beginning from the first scene where a group of chattering women answering nature's call had to stop everything because of a vehicle's lights. And it leaves an indelible impression on you, more so because Mehra has shot the film in real slums and has cast the perfect actors in the role (Mukesh Chhabra deserves applause for this). Pawel Dyllus's frames, frequently using tracking shots, almost make us smell the stink in which the Gandhi Nagar inhabitants carry their daily activities. There is so much realism, and yet not so much, to make you queasy (still, I won't recommend having popcorn while watching this).
Mere Pyare Prime Minister has its issues too. There is a slight lag in the middle portions. The whole meeting-the-PM track is rushed and the conclusion feels convenient. Makarand Deshpande's character is very superfluous to the plot, even though it has the potential to create a better impact.
And yet, the main reason why Mere Pyare Prime Minister tugs to your soft side, is because Mehra wraps the social cause in a touching mother-son story. Every sequence involving Sargam and Kanu is beautifully nuanced with the highlight being the mother and son recreating Ghulam's "Aati Kya Khandala", depicted in a brilliant one-take scene.
Not just this main thread, even the other relationships portrayed in the film are effective in their own ways. I wanted to see more of the abusively flirty relationship between Kanu's neighbours. Or delve more into Sargam's romance with a suitor Pappu (Niteesh Wadhwa), the latter using a Rang De Basanti song in a very cutesy manner in an unusual situation. However, the lack of time spent in these stories is more than compensated with Kanu's realistic camaraderie with his friends, Ringtone (Adarsh Bharti), Nirala (Prasad) and Mangla (Syna Anand). Portrayed with enough moments of humour, this is one dosti that will make you root for this ragtag team of unlikely social heroes!
Shankar-Ehsaan-Loy's score doesn't hinder the narrative. The "Kanha Re" track is beautiful, with some wonderful lyrics from Gulzar.
Watch the Trailer of Mere Pyare Prime Minister here:
The Performances
Anjali Patil portrays a character that has a gamut of emotions and complexities. Her character is a woman aware of her sexuality, a single mother who fond of her son, and later to become a survivor who has to brush off the brutality inflicted on her to lead her life as normal. And the actress pulls off this difficult character with immaculate ease. As the impish Kanu, Om Kanojiya is quite natural and works his way to your hearts. So do the talented child actors playing his friends. On a couple of occasions, we do feel the prompting, but overall, these brilliant finds are the heart and soul of Mere Pyare Prime Minister. The rest of the supporting cast, including Atul Kulkarni in a cameo, impresses.
Yay!
- The Social Cause is Addressed in a Focussed Manner
- The Mother-Son Bonding Depicted
- Rakeysh Omprakash Mehra's Direction
- The Performances
Nay!
- Some Lag
- The Delhi Portions Are Rushed Over
- The Conclusion Feels Convenient
- Makarand Deshpande's Character Feels Superfluous
Final Thoughts
Through Mere Pyare Prime Minister, Rakeysh Omprakash Mehra manages to address an important social cause without making it sound like a documentary or propaganda. What works for the film is a lovely premise involving a mother and son, with some natural performances, particularly from Patil and the child actors.