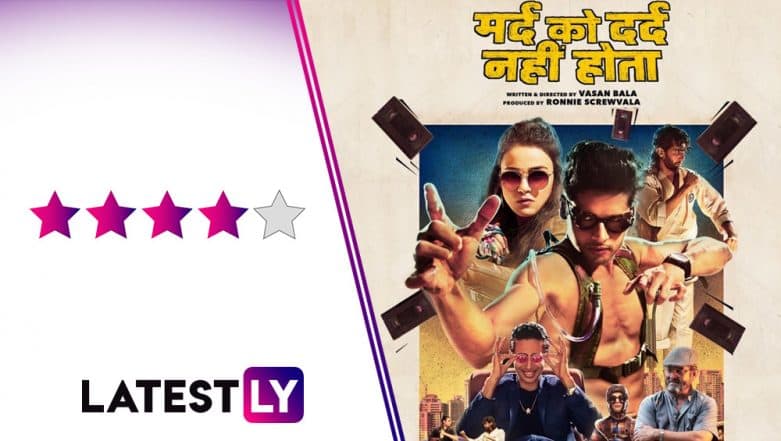 Vasan Bala's directorial Mard Ko Dard Nahi Hota premiered at the Mami Film Festival in October 2018 and is set to release in theatres this Friday.  Close to six months after I watched its first trailer, I watched Mard Ko Dard Nahi Hota, and I feel the wait was worth it. The movie features Radhika Madan, Abhimanyu Dassani, Mahesh Manjrekar and Gulshan Devaiah in lead roles. The movie's title might be masculine, but it gives Radhika, a woman in the flesh, plenty of moments to shine without objectification. Is that a Guinness World Record or something for Bollywood? Mard Ko Dard Nahi Hota Trailer: Vasan Bala's Unusual 'Superhero' Film Gives Us Crazy Kick-Ass Vibes; Bhagyashree's Son Abhimanyu Dasani Makes His Debut - Watch Video.
The title, Mard Ko Dard Nahi Hota, is pretty self-explanatory. If nothing, it is at least a tell for the fun, vintage, quirky, '70s-action poster child vibe of the film. The action comedy is centred on a boy, Surya (Abhimanyu), who is suffering from a medical condition that makes him feel no pain. That is no joyride, in case you are mistaken. You see, he might suffer a brutal life-threatening injury and wouldn't even realise. A tragedy prompts his father to imprison Surya in his own home. Nevertheless, the man who feels no pain trains himself in martial arts by watching action movies on VHS tapes.
The rhetoric is strong here. Surya has been within the four walls so long that when he finally gets his freedom, he has no idea what to do with it. But the universe has already set a plan for him in motion and Surya gets sucked into the mad world of good vs evil. Saying anything more about the plot will ruin the fun of watching it unfold on the big screen.
Vasan's film is overloaded with unique action set pieces. Very refreshingly executed stunts and combat sequences will keep you at the edge of your seat from start to end. Though, like every typical Bollywood action movie, MKDNH also has the protagonist(s) beat up a whole group of bad men at once. And, ironically, this is exactly where it becomes more than just run of the mill action film.
Firstly, the action sequences are realistically choreographed. Then, Vasan takes it up by a notch as he makes the movie very self-aware of its action and humour. The movie and characters know how filmy everything happening in Mard Ko Dard... is. There are many jibes at this very fact. 'Cliched psychotic villain' is the introduction of the antagonist. Vasan turns the climax of the film into a playground to play homage to action movies, video games and the very awareness of everything in the film.
Radhika plays Supri who might be the most complex character in the film. On one hand, she can make half a dozen men bite the dust alone but she agrees to be dominated by the men at her home. She has dedicated her life to learning the mixed martial arts but thinks she has no passion. Vasan has handled the character very beautifully. She goes to a medical store to buy a contraceptive pill and gulps it down with water while the pharmacist tries to burn her with a judgemental stare. The director or the actor make no big fuss about this scene and do not treat it as the holy grail of feminism.
Manjrekar plays a quirky character and gets the best laughs in the film after Devaiah. Abhimanyu pours his heart and soul into playing Surya. It is so blatantly visible that the actor has worked hard on this film. Despite playing an action-based role, the actor has an adorable vulnerability on his face throughout. Surya is not cut out of the alarmingly masculine, chest thumping, roaring machoism cloth that the world loves.
The music of the film, by Karan Kulkarni, is par brilliance. Every beat goes with the tempo of the plot. There is a rhyme and also a reason to it. I am waiting to see more of Karan on the field.
Mard Ko Dard... is not without its flaws. The editing is poor at some points in the film (examples below). The slow-motion scenes are a bit too many. Also, it is irritating to see the frames begin with actors' forehead despite the scene not being a closeup. The movie, though self-aware, lacks novelty in the plot progression. It falls quickly into the good vs evil tropes and pretty much turns out how you'd expect it to. It also borrows a page or two from Priyadarshan's house of comedy.
Yays
- Radhika Madan's kickassery
- Gulshan's comic timing in the most unlikely situations
- The background score and the music is brilliant
- Never-seen-before-in-Bollywood action and its authenticity
- Feminist AF
Nays
- The slow-mo shots are cool but there is an abundance of them in the movie making it overwhelming after a point
- A little off on the logic
- Editing is not crisp in some scenes like the introduction of Surya's father's girlfriend or when the gunman accidentally shoots the electrical circuit. Not bad but just could have been better,
- Uses exposition as an exit strategy in a few scenes
Conclusion
It is hard to differentiate the meta-narrative of Mard Ko Dard...from its flaws. Nevertheless, this movie is something Bollywood has never seen before. If you are a sucker for action movies, don't miss this one at any cost. If you are not an action fan, watch this movie as it has plenty more to offer. Miss this only and only if celver meta-humour, top-notch action, sleek funk music are not your cup of tea. The action comedy is a sucker punch to Bollywood's monotony.