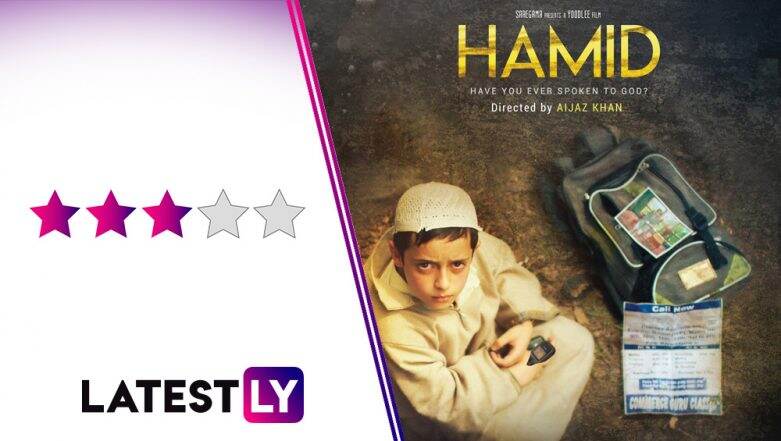 Kashmir has always been a contentious region for both politics and cinema for decades. When it comes to the portrayal of Kashmir in Indian cinema, we have always shown it discussing militancy in the state (Roja, Mission Kashmir) or provide a beautiful backdrop to a love story (Laila Majnu). But rarely do we have a film made about the life of the inhabitants there, crushed between the militants and the Indian army. Aijaz Khan's Hamid is one such poignant tale that looks deep into the lives of the families living there, deeply entrenched in the politics that they never could understand. Cannes 2018: Nandita Das, Rasika Duggal Join Jane Fonda and other Hollywood Actresses to Protest for Equal Rights.
Hamid is based on a play Phone No 786, and is about a little Kashmiri boy Hamid (Talha Arshad Reshi). His father Rehmat (Sumit Kaul) had left the home one night to buy batteries for him, never to return. A year later, there is still no news of Rehmat. Hamid's mother Ishrat (Rasika Dugal) regularly hounds the local police station for any information on her missing husband, but to no avail.
Hamid, himself, suffers from guilt for his father's disappearance, not helped Ishrat's cold demeanour towards him. He tries to look for his father in Allah and in the process, he gets to learn about the Holy God and how to appease him in order to get Rehmat back.
On the other side is Abhay Kumar (Vikas Kumar), a CRPF jawaan stationed in Kashmir. Abhay is frustrated about not getting to go home for one and a half years, while burdened by guilt over a fateful incident that makes him lose his temper very often. A tweak of Fate connects Hamid and Abhay through a phone call. Abhay becomes a beacon of hope for Hamid, while the boy inadvertently helps the soldier reduce his burden of guilt.
Hamid as a movie is an eye-opener for the armchair activists, as it allows a peek into the strife-ravaged families staying in the valley. It shows us how the clash of militancy and the army has affected the homes of the locals, as well as the morale of the soldiers stationed there. At the same time, Aijaz Khan and his writing partner, Sumit Saxena, refuses to take a stand on where to proportion the blame. Instead, they want us to figure us where things went wrong. We see the infamous stone-pelting, we see the Kashmiri youths clashing with the soldiers in the name of azaadi. A local leader tries to innoculate into the impressionable mind of Hamid the germs of militancy, while Abhay's frustration with the hostile attitude of the locals is quite understandable.
Through the young Hamid's view of the world around him, we realise that like elsewhere, it is the guileless who gets affected the most. Hamid's conversations with his 'Allah' are touching and delves into the innocence of the valley that is almost lost. Like a character says in the film, 'If Allah had listened to children, this world would have been a beautiful place'. Such an ironical statement, considering that he is staying in a place that many call paradise on Earth.
So while Hamid searches for his father in Allah, Ishrat's struggles are what becomes very painful to watch because it is shorn of any semblance of hope. The scene where she breaks down completely is moving, no less thanks to the brilliant performance of Rasika Dugal.
Watch the trailer of Hamid here:
Hamid has a story that deserves to be heard and seen, but the languorous pace that the proceedings move on, can sometimes be a bother. Especially in the first act, where things almost become standstill. It is only when the movie gets into the 'connection' between Hamid and Abhay, an idea that we have seen in quite a few films, that it comes alive. If Hamid is the innocence of the film, then Abhay stands for the tired resoluteness. Abhay accidentally becomes Hamid's kavach that protects him from getting lost into a point of no return. I still wish there were more scenes that expand this thread. But the conclusion to this storyline is beautiful.
The Performances
Rasika Dugal is a terrific actress, and she once again displays her wonderful range as the bereaved wife, who keeps the television in the hope that it offers her some glimmer. Not an expert on accents I am, but I could hardly feel Rasika dropping her lingo even in the most difficult scenes. Vikas Kumar is dependable as the soldier bogged down by the bloodshed and malice around him. The scene where he recites "Badhe Chalo" on the phone while marching to it will invoke many smiles. He is also terrific in that scene where he lets down the shield hiding his rage and guilt before his friend. Sumit Kaul in a cameo is effective.
Ultimately, Hamid belongs to the young Talha Arshad Reshi, whose innocent looks and poker-face manner work well for to get empathy his character. At times, there is stiffness in his performance, but considering the complexities of his character, Talha passes the test with flying colours.
Yay!
- Poignant Story
- Effective Performances
- Touching Conclusion
Nay!
- The Pace
- Not Everyone's Cup of Tea
Final Thoughts
With fine performances from Dugal, Kumar and Talha, Hamid is a brave effort by Aijaz Khan and his team to go where rarely any Indian film wants to get into. The poignant storytelling blended with the realism of the situation in Kashmir is affecting and at times, can move you to tears. It may lack commercial appetisers, but do watch Hamid, before offering your 'insightful' comments on the people living in Kashmir.