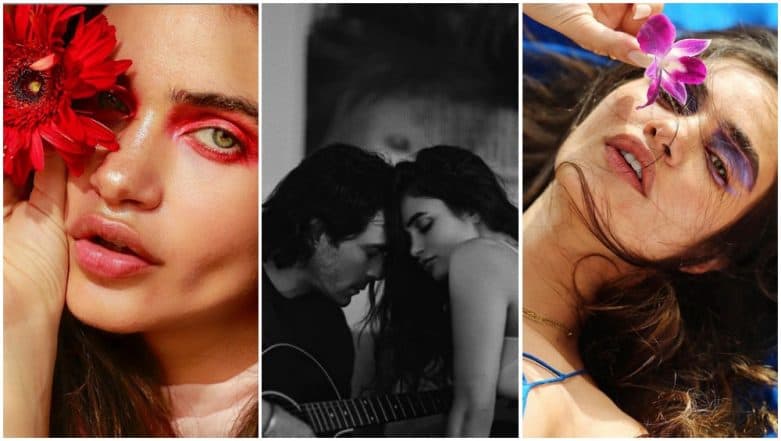 All eyes are on the gorgeous Gabriella Demetriades ever since she and her beau Arjun Rampal announced that they are expecting their first child together. It was on April 23 when the duo made this big announcement on their respective social media handles and since then fans having been pouring congratulatory messages and waiting to catch a glimpse of them. Gabriella did a photoshoot recently and she has shared the pictures on Instagram. Even her longtime boyfriend Arjun has shared a picture on his Insta handle and has rightly captioned it, 'Angelic'. Parents-to-Be Arjun Rampal and Gabriella Demetriades Twin in Black at Abhishek Kapoor-Pragya Yadav's Anniversary Bash! See Pics.
Mom-to-be Gabriella Demetriades is a South African model and she stuns in these photos that are captured by Sasha J Kimmane. The makeup is beautifully done by Lemii. These pictures are not just about the flower power but also focuses on Gabriella's intense get-up for the photoshoot. The artist clearly loved to play around with the beauty's stunning looks, keeping flower as the main object. Most of the pictures are close up shots and we just cannot take our eyes of them. These pictures of Gabriella are a must see. Mehr Jesia Unaffected With Arjun Rampal's Girlfriend Gabriella Demetriades' Pregnancy News.
Pic #1
View this post on Instagram
Pic #2
View this post on Instagram
Pic #3
Pic #4
View this post on Instagram
Pic #5
Ain't Arjun Rampal's ladylove Gabriella Demetriades looking stunning in these photographs? The last time Arjun and Gabriella were spotted together were at Abhishek Kapoor and Pragya Yadav's anniversary bash. The couple twinned in a black coloured outfit and were all smiles for the paparazzi. Do share your thoughts with us about Gabriella's pictures in the comments section below.